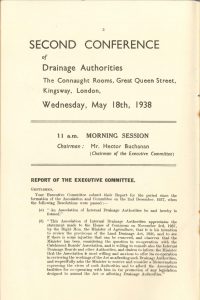 The 2017 ADA Annual Conference & AGM will be held on Thursday 16th November 2017 at One Great George Street, Westminster, London, SW1P 3AA.
The Conference will once again bring together delegates from across the flood and water level management industry, including the Environment Agency, internal drainage boards, local authorities, regional flood and coastal committees, Natural Resources Wales, DfI Rivers and many suppliers.
This year's Conference is particularly special as it marks the start of our 80th Anniversary celebrations since the Association of Drainage Authorities was formed on 2nd December 1937. With this, comes some exciting additional surprises, accompanied by an influential line-up of speakers who will be presenting at this year's Conference:
Thérèse Coffey MP, Parliamentary Under Secretary of State for the Environment & Rural Life Opportunities
Sir James Bevan, Chief Executive, Environment Agency
Councillor Derek Antrobus, Lead Member for Planning and Sustainable Development, Salford City Council
Lord Deben, Chairman, Committee on Climate Change
Download the full Conference agenda here: ADA Conference Agenda 2017
To book your place
Book your place at the ADA Conference 2017
If you wish to book your place manually, please complete the Delegate Booking Form below and return it either via email to Heather Bailey (heather.bailey@ada.org.uk) or by post to ADA, Rural Innovation Centre, Avenue H, Stoneleigh Park, Warwickshire, CV8 2LG before Monday 23rd October 2017.
Open Discussion Forum
This year's Conference will have a new enhanced format to enable members to raise questions and discuss relevant topics with speakers and other experts in attendance. To assist with managing the session, questions must be notified to ADA in advance. Please submit questions for discussion (maximum 50 words) to heather.bailey@ada.org.uk by Monday 23rd October.