Keep Our Rivers Flowing Summit 2022
12 May @ 11:30 am

-

4:00 pm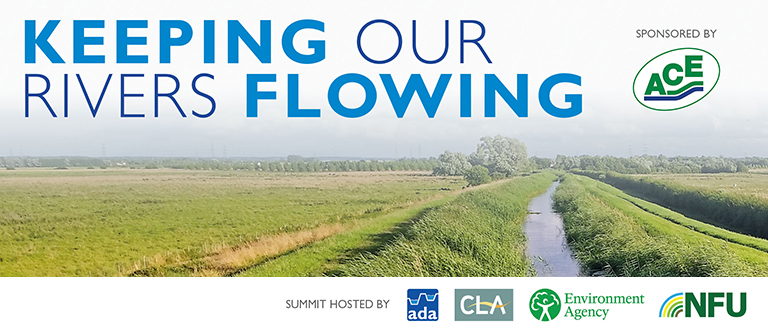 A partnership of four leading water and land management organisations are holding a national summit in May to highlight the importance of managing rivers and their catchments throughout England.
Register: Keeping Our Rivers Flowing Summit 2022
Hosted by: ADA, CLA, Environment Agency, and National Farmers' Union (NFU)
Chaired by: Robert Caudwell, ADA Chair
Date: Thursday 12 May 2022
Venue: NAEC, Oak Trees Suite, Stoneleigh Park, Warwickshire
Directions to the Venue | Parking at the venue
Theme: Integrating river and landscape
Kindly sponsored by: Aquatic Control Engineering. Experts in water flow management and flood defence systems.
The UK and Europe have experienced an increasing frequency and intensity of flooding from our rivers in recent years, sometimes with devastating effects upon the environment, local communities and economies. This summit seeks to increase awareness of not only the challenges that many rivers face, but also the practical steps that are being taken to maintain and enhance the capacity of our rivers and their catchments in coping with flood flows.
With environmental land management sitting at the heart of future agricultural reform in England, the Summit will look at how flood storage and natural flood management can combine with the maintenance of our rivers to reduce the risk of flooding.
Talking about the Summit, Robert Caudwell, Event Chair & ADA Chair said: "In the UK we need a range of targeted measures within our river catchments to address the impacts of flooding. This Summit offers an opportunity to bring farmers, land managers and flood management experts together to think about how land management can complement efforts to reduce the risk of flooding from our rivers. I am looking forward to chairing a panel of leading figures to discuss those measures and the next steps needed to deliver these changes at scale."
We hope to hear from Defra about how the Government's new Environmental Land Management (ELM) schemes can contribute to enhancing our rivers and streams to reduce the risk of flooding, and from practitioners presenting evidence on how flood water can be effectively stored within the landscape and conveyed by our rivers.
Summit Speakers
We are very pleased that Sam Burford from Defra's Landscape Recovery Team will be presenting about the importance of the connection between our landscapes, the environment and water management supported by Richard Barnes from the Local Nature Recovery Team.
From the Environment Agency the Summit will be joined by Caroline Douglass and Ian Hodge. Caroline is the Executive Director for Flood and Coastal Risk Management for the Environment Agency (EA). She joined the Agency in 2013 and has a varied background in both policy and operational roles. Before joining EA, Caroline worked with the State Government in Victoria, Australia. This involved a range of senior land, catchment and natural resource management positions. Ian is the Environment Agency's (EA) Chief Engineer and Director of Asset Management and Engineering. He is a Chartered Civil Engineer and Fellow of the Institution of Civil Engineers.
Richard Bramley, who chairs the National Farmers' Union's Environment Forum, will reflect on his own experiences of flooding on his farm not far from Selby in North Yorkshire and the role agriculture can play through natural flood management measures and flood storage in some areas, where there is recognition for the public goods delivered.
Ian Warsap, Chief Executive of Black Sluice Internal Drainage Board near Boston, Lincolnshire will describe the IDB's experiences with environmentally friendly and cost effective lowland river maintenance by using cutting and suction silt removal to settlement lagoons and within their upper catchment through natural flood management attenuation measures.
Jo Knight will be speaking on behalf of the CLA, supported by Alice Green. Jo works with Dyson Farming Ltd as their Estate Surveyor with specific interests in managing carbon and enhancing natural capital. Alice Green will be supporting Jo as the CLA's Policy Advisor on Climate and Water.
In addition, attendees joining this event can look forward to:
Presentations from practitioners presenting examples and evidence on how flood water can be effectively stored within the landscape and conveyed by our rivers

Information-rich discussions and the opportunity to participate in an engaging Q&A session with the panel of senior representatives from ADA, CLA, EA and NFU

Stakeholders and key policy officials addressing the challenges and providing positive next steps towards solutions

Networking opportunities over lunch, with a broad spectrum of attendees from across the sector
Booking Information
This face to face event is open to both members and non-members, with places available at a delegate rate of £25 inclusive of VAT.
Please visit the Keeping Our Rivers Flowing Summit 2022 Eventbrite page to book your place.
Keeping Our Rivers Flowing Summit 2022 Eventbrite page
The ADA website will be kept up-to-date with information on the event, so pop back for the latest updates.