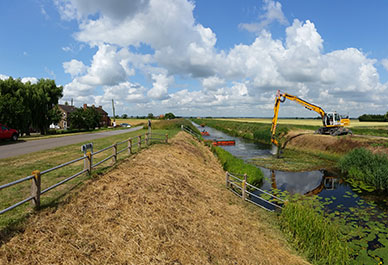 Each internal drainage board (IDB) is a public body that manage water levels in an area, known as an internal drainage district, where there is a special need for drainage. IDBs undertake works to reduce flood risk to people and property, and manage water levels for agricultural and environmental needs within their district.
Today, there are 112 IDBs in England whose districts cover 1.2 million hectares (9.7% England's landmass). They play a key role in reducing flood risk to over 600,000 people and nearly 900,000 properties. They operate and maintain over 500 pumping stations, 22,000 km of watercourse, 175 automatic weed screen cleaners and numerous sluices and weirs.
For information about drainage districts in Wales and Scotland click here.
Downloads
An introduction to IDBs | Wallchart of IDBs in England (Defra) | The value of your IDB 2017