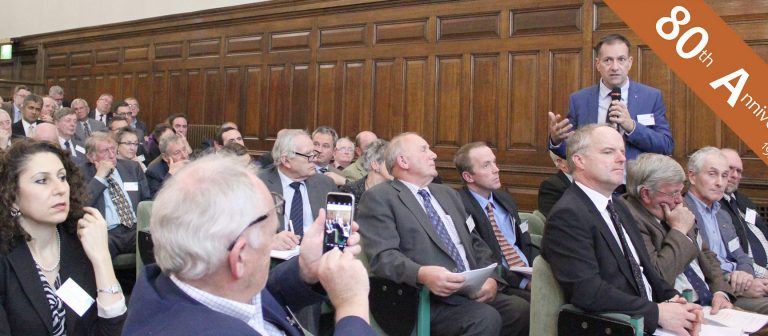 ADA's 80th Anniversary Annual Conference will open the floor for delegates to raise questions and debate the key issues affecting the flood and water level management industry on Thursday 16 November at One Great George Street, London.
For 80 years ADA has been at the heart of discussions around the management and regulation of Britain's rivers and critical flood management assets. Over that time the industry has seen significant change and today is stepping up to meet the challenges posed by climate change, urbanisation and the economy.
By working in partnerships throughout catchments across the country ADA's members are finding innovative ways of working together to deliver more: using new efficient and environmentally sensitive channel management techniques, working with natural processes, utilising sustainable drainage systems, finding solutions for eel passage at pumping stations, and giving local communities a greater say in how their local waters are managed.
Reacting to feedback from members and delegates, ADA will introduce a fresh approach to the conference proceedings this year. It will include an extended Q&A session to enable the audience more opportunity to debate topical and pertinent subjects and allowing experts within the audience with the appropriate knowledge to respond.
Speakers
Before the Q&A gets underway, an influential line-up of presenters will be addressing key themes fitting for this special anniversary edition.
ADA is delighted to welcome back Dr Thérèse Coffey MP, Parliamentary Under Secretary of State for the Environment. Dr Coffey will be providing the opening address and has again agreed to take questions from the floor.
This will be followed by keynote presentations from Sir James Bevan, Chief Executive of the Environment Agency, and Councillor Derek Antrobus, Lead Member for Planning and Sustainable Development at Salford City Council.
Later in proceedings, ADA's guest speaker Lord Deben, Chairman of the Committee on Climate Change (CCC), will address delegates during the ADA luncheon.
Proceedings
As well as the anniversary celebrations, the 2017 annual conference will be a special occasion with ADA marking ten years of incredible service from Henry Cator OBE, who steps down as ADA Chairman during the conference. Henry's contribution to ADA and the industry will very much be the focus of the ADA day, and particularly the luncheon.
Vice Chairman Robert Caudwell will assume the role of Chairman during formal proceedings of the AGM at the end of the morning session, subject to members' approval.
The Conference will once again bring together delegates from across the flood and water level management industry, including the Environment Agency, Internal Drainage Boards, Local Authorities, Regional Flood and Coastal Committees, Natural Resources Wales, DfI Rivers and many suppliers.
For the third year running delegate, places are once again priced at £112+VAT. Places are available for ADA members and other professionals with an interest in the flood and water level management industry. To book your place visit www.ada.org.uk/events/annual-conference
Notes to Editors
Questions must be submitted in advance for the open-floor Q&A session in order that they can be directed to the most relevant conference attendee. If there are more questions than can be fitted into the session, these will be recorded in the written proceedings. Questions should be submitted to heather.bailey@ada.org.uk by no later than 23 October 2017.
Henry Cator OBE DL FRICS has lived in Norfolk all his life. A qualified chartered surveyor and Fellow of the Royal Institution of Chartered Surveyors, Henry has worked as a land agent for over 30 years as well as running his own mixed farm at Salhouse producing pedigree British White beef. He has been chairman of ADA since 2006 having been chairman of The Broads Internal Drainage Board from 2006 – present. Henry is currently chairman of the Royal Agricultural Society of England based at Stoneleigh in Warwickshire and was High Sheriff of Norfolk for 2012-13.  He is the High Steward of Great Yarmouth. Henry was awarded an OBE in Her Majesty The Queen's 2008 Birthday Honours List for his services to the community in Norfolk.
ADA is involved in a wide range of work for and on behalf of its members helping to exchange ideas towards solving common problems and finding new, better ways of working. ADA responds to consultations from the Government, either on behalf of members or assisting with individual member responses. It represents all interests nationally and locally in relation to drainage, water level and flood risk management, for example, in relation to legislation and public inquiries. ADA acts together with other organisations to pursue the Association's objectives, including linking to Europe through ADA's membership of EUWMA, the European Union of Water Management Associations. ADA obtains and shares information on matters of importance and interest to members, and provides advice on technical and administrative problems. ADA is supported by a volunteer network of branches which bring together members for meetings at a regional level. ADA organises exhibitions and meetings for the benefit of members, maintains a website at www.ada.org.uk and publishes the quarterly ADA Gazette.
ADA is a limited company employing 6 staff with offices based at Stoneleigh Park in Warwickshire. ADA welcomes enquiries from the press and can be contacted during normal weekday office hours at 02476 992889 or by e-mail at admin@ada.org.uk.
For press enquiries please contact:
Heather Bailey, Marketing & Events Officer, ADA, Rural Innovation Centre, Avenue H, Stoneleigh Park, Warwickshire CV8 2LG
Office: 02476 992889
Email: heather.bailey@ada.org.uk
Aimée Scanlon, Communications & PR Officer, ADA, Rural Innovation Centre, Avenue H, Stoneleigh Park, Warwickshire, CV8 2LG
Office Tel: 02476 992 889
Email: aimee.scanlon@ada.org.uk
For any other press enquiries please contact Stuart Booker, Kendalls 02476 992360 or stuart.booker@kendallscom.co.uk. Issued on behalf of ADA by Kendalls.
---