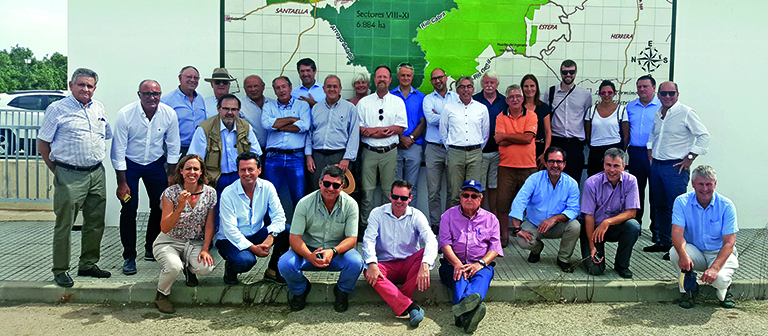 On Monday 10 September the National Federation of Irrigation Communities of Spain (FENACORE) hosted the 23rd Annual Meeting of EUWMA in Córdoba, Andalucía. EUWMA is the European Union for Water Management Associations. It enables associations, similar to ADA, from across Europe to meet, discuss common problems, and learn from their members' experiences about local water management.
Hot and dry
Like the UK, much of Europe had experienced a hot summer in 2018. Water managers in northern European nations had worked to manage, and communicate to the public, the challenges posed by drought conditions, particularly for the agricultural sector. In southern Europe drought conditions had been alleviated by a wet spring. Spain's water reserves had been less than 40% of their long term average in Autumn 2017, and for some areas as low as 15%, following several drier than average years.
As Oeds Bijlsma, Director of the Friesland Water Board put it: "We now have a moment, experiencing just a small part of what severe water stress can look like. We can and should learn now from the experience of others, like Spain, who face this threat more frequently."
Brussels
Dieter Staat, the Dutch Union of Water Boards' representative in Brussels, explained the latest developments from within the EU. He highlighted the European Commission's 'Fitness Check' of the Water Framework Directive (WFD), and ongoing work that is shaping Europe's Common Agricultural Policy (CAP) beyond 2021.
The Commission wants CAP funding measures to become: more tailored to each nation's circumstances, be less bureaucratic and prescriptive, and more effectively contribute to other EU legislation (e.g. the goals of the WFD). However, Dieter stressed that the future shape of CAP will be determined by ongoing negotiations around the EU's new budget and Brexit.
EUWMA matters
EUWMA members discussed a draft declaration on 'financing local water management', prepared by our French colleagues, ANASP. It highlighted the differing access to state and European funding opportunities of local water management authorities' across Europe, and stressed the value of bodies, like IDBs in England, being able to access rural development funding for climate and environmental enhancements.
ADA will host the next annual EUWMA meeting in York in September 2019, when Robert Caudwell will become president of EUWMA. We intend to focus on 'multi-functional water management' as the theme for ADA's presidency, and so we will be looking out for positive examples from our members.
Water management in Córdoba Province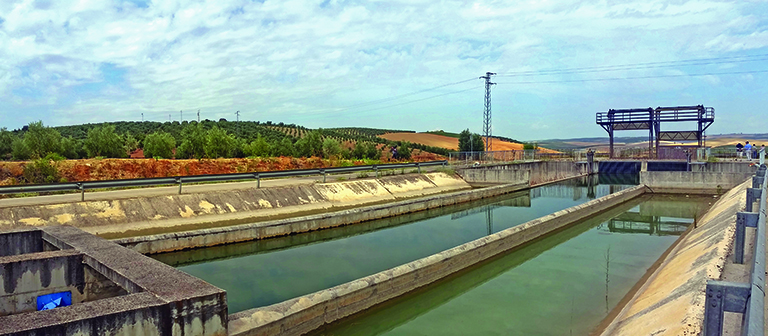 On the following day FENACORE provided a visit to see some the important work of Irrigation Communities around Córdoba.
At the San Rafael de Navallena Dam to the north east of Córdoba, Andres de Campo, President of FENACORE and EUWMA, highlighted that water storage in reservoirs across Spain had helped prevent a 'hydrological drought', despite Spain being in a 'meteorological drought' for five years until spring 2018, and water demands for both drinking water and irrigation had continued to be met. Water Law in Spain sets the hierarchy of priorities for water use, with drinking water sitting at the top, and other uses, such as irrigation, sitting lower. For this 'warranty' water supplied for drinking water from reservoirs are charged more per volume than lower priority users.
The Dam is sited on the Guadalmellato River just upstream of its confluence with the Guadalquivir River that flows through Córdoba and is the fifth longest river on the Iberian Peninsula. It can store 167 million m3 of water for urban use and irrigation, whilst also generating electricity. Reserves can also be supplemented by pumping water 57 metres up into the reservoir during high flows in the Guadalquivir River.
The group then visited the Genil-Cabra Irrigation Community south of Córdoba. The Irrigation Community was formed in 1974, before which farmers were wholly reliant upon direct rainfall and limited on farm water storage.
Today the Irrigation Community covers 40,085ha, of which 23,946ha have been brought into irrigation, supplying 2,400 irrigators. The water supplied is drawn from the Iznajar reservoir (capacity: 980 million m3) on the Genil River. Water is gradually released from this reservoir downstream to the smaller Cordobilla Reservoir (35 million m3) where it is pumped into the Irrigation Community's canal system. Along the 30km canal there are six sectorial pumping stations, which distribute the water under pressure by pipe to the individual farm plots within the irrigable area.
The Genil-Cabra Irrigation Community has clearly transformed the range of crops that local farmers can grow, and improved the local economy by contributing to more than 4,500 additional jobs they estimate.
Ian Moodie, Technical Manager, ADA
---