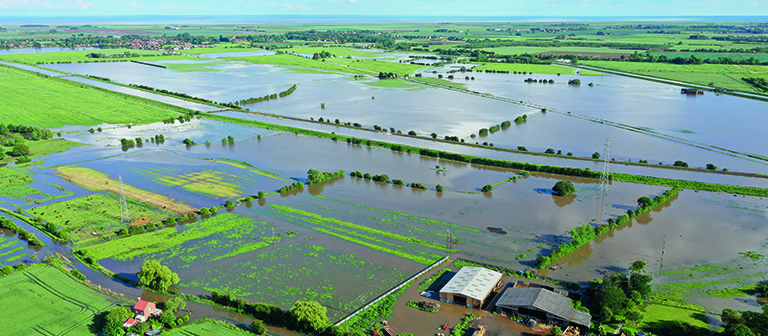 Image of Wainfleet flooding 2019 (Richard Hardesty)
Locals are the experts in flood risk management, says major water management authority ADA (Association of Drainage Authorities). Supporting and increasing local partnership working can minimise devastating flood damage caused by embankment failure and will help to maintain water availability in times of drought.
"Climate change is a reality, and we have to accept that with more extreme weather conditions, there will be increased frequencies of embankment overtopping,"explains Innes Thomson, chief executive of ADA, the organisation representing drainage, water level and flood risk management authorities in the UK.
Overtopping is the term used to describe the point at which water through a river channel flows over the top of an embankment at times of excessive flow. This exerts an unusual and huge pressure on the point of "overtopping" which can result in the embankment failing, increasing the volume of water released into the surrounding area.
"The first priority is to ensure embankments are strong and resilient to avoid dangerous breaches, and local IDBs alongside other local stakeholders such as the local Environment Agency offices, Local Authorities and parish councils are best placed to identify any concerns such as aging or susceptible flood risk management infrastructure within their own drainage district, due to local knowledge and surveying of risk areas. This is key to providing a local service in managing water where it really matters, to the people and the environment" continues Mr Thomson.
Citing the example of the sudden embankment failure on the Steeping River in June, causing flooding devastation to the Lincolnshire village and community of Wainfleet, ADA warns that it is essential that when water does flow over embankments, the local environment and community is pre-prepared to deal with the excess of water and know how to get rid of it, through for example well-managed and maintained sluices and pumping stations to divert water and relieve pressure.
While the lasting memories for many of the viewing public, watching coverage of the devastating Wainfleet flooding, may well be the two RAF Chinooks and a Puma helicopter dropping 342 one-tonne bags of aggregate to plug the breach, it was what was going on behind the scenes that was more engaging for the local communities. There was an incredible response from all the emergency services and authorities involved, but it was the local Lindsey Marsh Drainage Board who were at the heart of the operation. Their Thorpe Culvert pumping station moved 430,000m3 per day out of the flooded area back into Steeping River. When water levels even threatened to inundate the pumping sub-station itself, the drainage board team were joined by members of the local community, the emergency services, the Environment Agency and many others, who battled to build temporary defences, using over a thousand sandbags. This heroic urgent intervention of all those teams working together remarkably kept the station operational throughout. Its loss would have resulted in a larger number of homes being affected in and around Wainfleet. In total, the station shifted in excess of five million cubic metres of water from the flooded area over 11 days.
The neighboring Witham Fourth District IDB also played a decisive role by taking water into their system, from the Steeping River. They diverted water 17 miles through a well maintained drainage network and two pumping stations to get to the Wash, helping to relieve pressure on the Steeping River system.
Mr Thomson flagged up the recent £1.8 million sea defence project at Wrangle Banks, on the Lincolnshire coast north of Boston. Funded by Defra, with European Regional Development Fund (ERDF) support via Lincolnshire County Council, sea defences were raised by up to 7 metres and re-profiled to increase their resilience in an area of the Wash shoreline which would have been catastrophically affected if hit by major flooding. Headed up by Witham Fourth District IDB (W4IDB) as the lead risk management authority, this partnership project involving Lincolnshire County Council, Environment Agency and local landowners protects 3,400 hectares of prime grade-one farmland and 460 domestic and industrial properties. These improved defences accommodate and direct surplus water to local managed pumping stations. This is a prime example of a co-ordinated effort, and highlights the importance of landowners and communities working together with local risk management authorities.
Another example where working together brings obvious benefits, is in balancing environmental and habitat demands with the need to manage water level and flood risk requirements. Burrowing animals, for example, can have a significant impact on the resilience of a flood embankment, and this needs to be carefully managed. It is essential, therefore, that local landowners such as farmer collaborations, assisted by IDBs and other flood risk management authorities work closely with the Environment Agency and Natural England to address these local challenges with the right balance.
The positive and proactive roles of IDB's are demonstrated through these examples and this is replicated across lowland areas at risk of flooding across the country from the Fens to the Somerset levels. Often however, there appears to be some disconnect between what happens on the ground, and the public perception.
Ultimately, IDBs are best placed due to their connection to the local community. Public consultations help raise awareness, avert or reassure concerns but also justify expenditure and levy payments in internal drainage districts.
Mr Thomson concludes,"Working in close collaboration with the Environment Agency and other authorities and voluntary groups, IDBs provide a cost-effective, efficient, local service in managing water where it really matters to people and the environment. The Wainfleet event demonstrated how professionals can come together in a very effective way behind the scenes. It is increasingly important however, to increase publicity and awareness of this joint-working to allow people to understand and support the work being done in their local and wider area to reduce the risk of their lives being affected by flooding and drought".
---