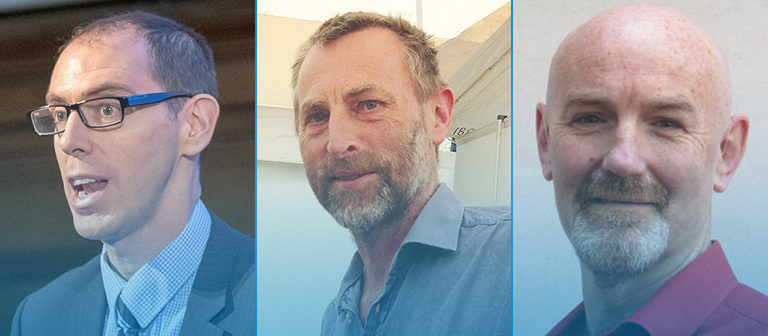 ADA Conference 2020 guest speakers, from left to right: David Cooper (Defra), Professor Chris Stoate (GWCT), and Dr Toby Willison (Environment Agency)
Adjusting to the new normal to help safeguard the next generation
Working together and adapting to the 'new normal' were the key themes coming out of the 83rd ADA Annual Conference (11th November), bringing together the leading authorities and experts in drainage, flood-risk and water-level management.
This partnership approach must be truly inclusive and multilateral, with an emphasis on diversity and the next generation of water-level managers, working towards a carbon zero, climate resilient future, delegates at ADA's first ever 'virtual' conference were told.
Keynote speaker David Cooper, Deputy Director for Flood and Coastal Risk Management Policy in Defra, thanked delegates for their efforts, particularly in dealing with the flooding events of last winter, before detailing Government's commitment to the national flood risk management infrastructure.
With the Government doubling investment in flood risk management to a record £5.2 billion between 2021-2027, in doing so avoiding £32 billion in economic damages, Mr Cooper said Defra will continue to ensure a consistent and robust approach to allocation of Government flood funding, through partnership funding arrangements. Importantly, he emphasised Defra's commitment not only to capital investment, but also for increased attention to routine maintenance.
Now that the Environment Bill is back in parliament for debate, Mr Cooper stressed the importance of how internal drainage boards were a crucial part of delivering the Government's 25-year environment plan and working towards a carbon-zero economy.
On behalf of Minister Rebecca Pow MP, and in the light of recommendation accepted from the Jenkins Report on Surface Water and Riparian Responsibilities, Mr Cooper also announced that the Government will next year conduct a review of maintenance responsibilities, and will ensure that riparian owners are clear about their responsibilities.
Earlier in proceedings, Robert Caudwell, ADA's chairman had opened the conference by reflecting on what has probably been the most difficult year for the industry, as a whole. He warned of the potential for more flooding while we are still recovering from last year's extreme weather, and said we should not treat this past year as an exception.
"We must get into a position of adjusting to a new normal," said Mr Caudwell, calling on businesses, including farmers and landowners, to take a fresh look at their approach, and embrace innovation and science to inform the changes we all need to make.
The conference also heard from Professor Chris Stoate, Head of Research at the Game & Wildlife Conservation Trust's Allerton Project research and demonstration farm. Chris Stoate outlined the considerable gains that could be made in reducing run-off by improvements in our management of soils, and the vital connection that represents to reductions in pollution and sediments entering ditches and rivers. As well as the environmental benefits, he well- illustrated how better soils management could significantly reduce the amount of maintenance needed.
Robert Caudwell's and Chris Stoate's sentiments were echoed by Dr Toby Willison, who is about to take up a new role as Natural Capital and Environment Director at Southern Water, after holding a variety of strategic positions at the Environment Agency.
Dr Willison noted that barely a month passes without a record being broken for extreme weather conditions, but it will be the next generation and their children that will experience the consequences of the decisions being made now.
"The lives and livelihoods of future generations depend on us," he told the audience.
Concurring with Mr Caudwell's stance on last year's weather patterns becoming the 'new normal', Dr Willison expressed his support for ADA's commitment to working in partnership for a climate resilient future.
He also went on to stress the importance of attracting the next generation of civil engineers and water management professionals, citing the need for diversity to reflect the communities in which the sector operates and serves.
The theme of partnership and maintenance needs resonated during an Open Discussion Forum, with panelists including Julia Beeden of Cambridgeshire County Council, Emily Clarke of Anglian Water, John Curtin of the Environment Agency, David Jenkins of the Wessex Regional Flood and Coastal Committee (RFCC), David Thomas of Middle Level Commissioners, and Innes Thomson, chief executive of ADA.
ENDS
Notes to Editors
ADA
ADA is the membership organisation for those involved in drainage, water level and flood risk management. Its members include Internal Drainage Boards (IDBs), the Environment Agency, Regional Flood Defence Committees, Local Authorities, Natural Resources Wales, the Northern Ireland Rivers Agency, Consultants, Contractors and Suppliers.
ADA is involved in a wide range of work for and on behalf of its members helping to exchange ideas towards solving common problems and finding new, better ways of working. ADA responds to consultations from the Government, either on behalf of members or assisting with individual member responses. It represents all interests nationally and locally in relation to drainage, water level and flood risk management, for example, in relation to legislation and public inquiries. ADA acts together with other organisations to pursue the Association's objectives, including linking to Europe through ADA's membership of EUWMA, the European Union of Water Management Associations.
ADA obtains and shares information on matters of importance and interest to members, and provides advice on technical and administrative problems. ADA is supported by a volunteer network of branches which bring together members for meetings at a regional level. ADA organises exhibitions and meetings for the benefit of members, maintains a website at www.ada.org.uk and publishes the quarterly ADA Gazette.
ADA is a limited company with offices based at Stoneleigh Park in Warwickshire. ADA welcomes enquiries from the press and can be contacted during normal weekday office hours on 02476 992889 or by e-mail at admin@ada.org.uk.
For press enquiries please contact:
Eur Ing J Innes Thomson BSc CEng FICE
Chief Executive
Association of Drainage Authorities
Rural Innovation Centre, Avenue H, Stoneleigh Park, Warwickshire CV8 2LG
Office: 02476 992889
Website: www.ada.org.uk
Ian Moodie MSci
Technical Manager
Association of Drainage Authorities
Rural Innovation Centre, Avenue H, Stoneleigh Park, Warwickshire, CV8 2LG
Office Tel: 02476 992 889
Email: ian.moodie@ada.org.uk
Ryan Dixon
Publications & Communications Officer
Association of Drainage Authorities
Rural Innovation Centre, Avenue H, Stoneleigh Park, Warwickshire, CV8 2LG
Office Tel: 02476 992 889
Email: ryan.dixon@ada.org.uk
For any other press enquiries please contact Stuart Booker, Kendalls PR on 07841 655379 or stuart.booker@kendallscom.co.ukstuart.booker@kendallscom.co.uk. Issued on behalf of ADA by Kendalls PR
---