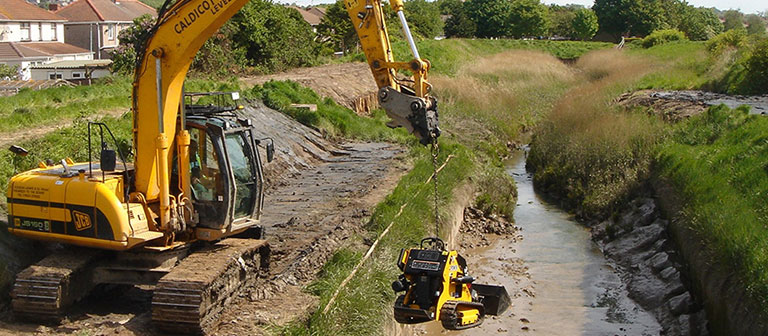 Today, Thursday 8 September 2016, the Government published the National Flood Resilience Review following the winter 2015-16 floods across Northern England. The following is ADA's initial statement following its release.
ADA welcomes the Government's focus on flood resilience and the commitment to examine the science of our changing weather patterns. We agree that a national approach to long-term water level and flood risk management post-2021 is needed. The Government's budget commitment to invest an additional £700m in flooding and resilience projects by 2021, made earlier this year, was much needed and the idea that we start to look at the nation's investment requirements beyond the current spending cycle also makes sense.
However, without the right people in place and properly trained to deliver work on the ground extra investment alone will not help. ADA wants to ensure that the Government gets the best value for money from its investment in essential and routine maintenance activities by accelerating the cascading of works to local delivery bodies including Internal Drainage Boards and Local Authorities as well as the Environment Agency's area teams.
Commenting on the publication of the Report, Innes Thomson, ADA's Chief Executive said:"This report is very welcome and recognises the need for all of us to consider our flood resilience much more seriously. People do expect action to be taken and whilst the provision of additional equipment can be quickly achieved, we must not forget that, in parallel with volunteer groups, increased levels of skilled, professional people are required to manage that equipment during emergencies. These same people could then be used very effectively at other times to maintain our water level and flood risk management systems to much better standards."
Below we have summarised ADA's thoughts on the key themes within today's report:
Temporary defences
The National Flood Resilience Review positively highlights that part of the Government's new investment will be used to strengthen supplies of equipment used to help protect people and infrastructure at times of flooding, such as pumps and temporary barriers. The report talks about "deployment logistics" but does not clearly mention the most important need of investing in the right people and skills to deploy all this extra equipment at times of need.
Infrastructure
ADA supports the report's move to encourage our infrastructure companies to invest in improving the protection to services which are essential to peoples' health and wellbeing and the economic viability of our regions. We would encourage this approach to work in tandem with the strategic and local delivery provided by England's risk management authorities. Often by looking at a catchment or sub-catchment scale, rather than at an individual infrastructure provider's asset alone, more cost efficient solutions to flood risk can be found.
Science and innovation
Much of the report focusses on gaining a better scientific understanding of the risk through mathematical models and analysis of data. The conclusions in this area appear sound, drawing on excellent expert advice, presenting the findings in a logical manner that helps to paint a better picture for wider public understanding than has been previously been available. However, further scientific improvements will take time and understandably the many people affected by the recent flood events want to see action now. So ADA would welcome a commitment by Government to include funding of innovative solutions that can boost both our short and long term resilience to flooding. Cumbria and the elsewhere in the North of England affected by the recent floods do offer some immediate opportunities.
Maintenance
ADA notes that very little was written in the report about maintenance of our watercourses beyond recognising that "maintenance and improvement of existing, ageing, defences is an acknowledged challenge". ADA believes that it is here that immediate actions could start to help communities-at-risk across the country at nominal cost.
Government has already committed to increase maintenance spending by £70m per year over the term of this parliament. ADA calls for government to ensure that as much of the overall allocation for maintenance and operations is cascaded to local teams for them to spend in their local areas on essential and routine maintenance activities. Many rivers remain choked with vegetation and silt and Local Authorities no longer have the resources to properly maintain gullies and surface water systems in communities. Internal Drainage Boards, in partnership with the Environment Agency and Local Authorities, are starting to provide cost-effective alternative solutions to maintenance in the areas where they are present.
In response to the call for short-term action, ADA strongly recommends that government should increase its attention to maintenance work to the existing river and surface water networks in parallel to the scientific work and additions in flood resilience equipment being provided.
Total catchment management
The longer-term strategic catchment management approach proposed in the report is the logical way forward, as is working with nature alongside existing flood defence techniques and maintenance. However, if land use and management is to change then incentives need to be put in place that values land management that delivers a public good, such as storage and attenuation of flood waters, and this will take time.
ADA is acutely aware that whilst the report sets the right tone in terms of aspiration, realism over what can and will be achieved in the short and medium term is needed, and the report is light on detail here. There needs to be a wider recognition that natural systems alone are not necessarily simpler than engineered ones and present their own maintenance and management challenges that can have significant costs. We hope that the Government's 25 year plan for the environment will develop detail here further.
---