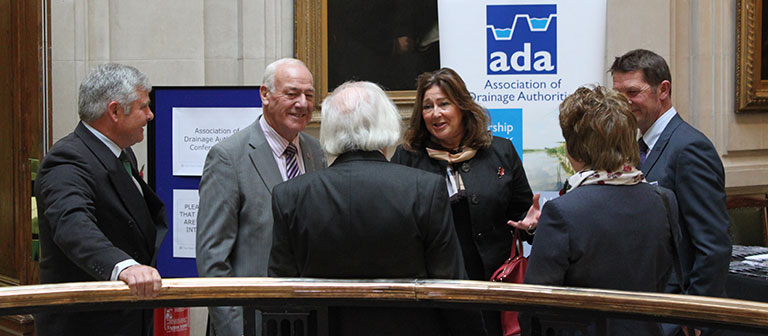 Dr Thérèse Coffey MP, Parliamentary Under Secretary of State at the Department for Environment, Food and Rural Affairs (Defra), will be the keynote speaker at the Association of Drainage Authorities (ADA) Annual Conference, this year taking place on 17 November at One Great George Street, Westminster, London. With the recent publication of the government's National Flood Resilience Review set to be a key theme at the conference, ADA are delighted Dr Coffey will join an influential list of guest speakers and leaders from industry and politics.
Alongside Dr Coffey, guest speakers include: Emma Howard Boyd, chair of the Environment Agency; Neil Parish MP, chair of the Environment, Food and Rural Affairs (EFRA) Select Committee and Minette Batters, deputy president of the National Farmers Union (NFU).
While ADA has welcomed the government's National Flood Resilience Review, the Association maintains that local delivery bodies including Internal Drainage Boards and Local Authorities as well as the Environment Agency should play an integral role in all flooding and resilience projects and, in particular, carrying out maintenance activities on all types of river and drain.
The ADA conference provides the platform to address concerns, question policy makers and gain greater insight into the long-term strategies for flood risk and water level management. Always a central feature of the ADA conference, this year the 'ADA Question Time' session will be expanded to offer greater audience participation in the form of an open 'Q&A' discussion with a panel made up of industry leaders.
The 2016 panel includes: John Curtin, executive director of flood and coastal risk management at the Environment Agency; Neil Hornby, deputy director, flood risk management at Defra; Steve Willis, assistant director, environment at Lincolnshire Country Council and Innes Thomson, chief executive of ADA. The panel will be chaired by Henry Cator.
The discussion session gives the audience the opportunity to openly debate or raise concerns on any topical drainage, water level or flood risk management issue. Likely subjects other than national flood resilience will be themes emerging from the EFRA Select Committee Future Flood Prevention inquiry, the countryside stewardship schemes and what impact Brexit may have on any or all of these areas.
ADA is keen to attract a full audience of members to the 2016 conference. An update of the activities of ADA over the past 12 months will also be presented, along with plans for 2017 and beyond.  As such, ADA is delighted to confirm that delegate fees have been frozen at the 2015 rates of just £112 + VAT. This represents excellent value and includes lunch in the surroundings of the Great Hall and networking opportunities with friends and colleagues.
People wishing to book their place at the conference should email admin@ada.org.uk or download the booking form. Spaces are limited and registration closes on Friday 14th October 2016.
Organisations or individuals involved in drainage, water level or flood risk management that are interested in becoming a member of ADA should call 02476 992889 or email admin@ada.org.uk for more details.
Ends
---