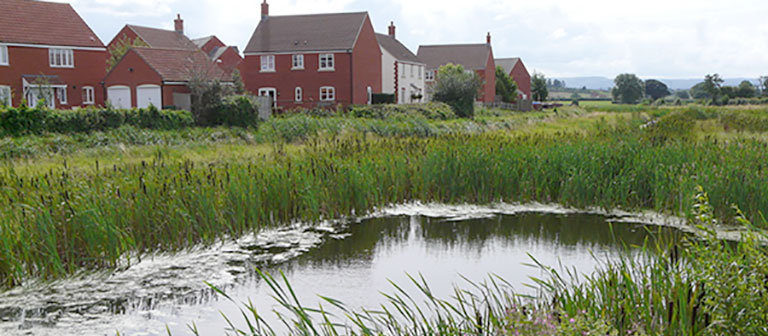 Put controls in hands of Local Authorities to reduce future flood risk, urges ADA
Government must provide Local Authorities, internal drainage boards, and water companies with robust controls to ensure that future residential and commercial developments will no longer cause longer-term surface water and foul drainage problems for future generations, according to ADA (the Association of Drainage Authorities).
While welcoming the government's recognition of the work of the various authorities and other key partners in delivering better drainage, water level and flood risk management works to river catchments and local communities, ADA remains concerned that government is not yet facing up to the fundamental need to put controls into the hands of Local Authorities.
Voluntary rules and codes of practice, which the government is supporting, are too easily over-ridden by less scrupulous developers, and there is little other incentive for providing this key infrastructure, other than through the goodwill of more professional enterprises.
Government argues that Local Authorities have the powers to impose the rules, but in practice the departments with the required people and skills either no longer exist or are too small to cope with the demand placed on them.
ADA recognises the government's desire to reduce the red-tape around development but this must not be done at the expense of building a less flood resilient generation of housing stock and offices which simply passes the problem into the future.
London's famous engineer Joseph Bazalgette had the foresight, following the 'Great Stink' of 1858, to provide a city sewerage system that is still in use today, and which led to the development of London as the world economic hub that it is today. As a society, and to sustain Britain's economic well-being in a post-Brexit era, a governance structure must be provided for responsible development which requires rules, and the people with the skills to make sure that they are being properly applied.
Innes Thomson, ADA's Chief Executive says, "We want to encourage development, but not at any cost. Human nature and financial incentive will inevitably mean that if there are not robust rules in place for the provision of drainage, water level and flood risk management infrastructure, then we risk a free-for-all situation with serious future flood risk consequences. Government needs to take a tougher stance on this.
"The one plea anyone who has been flooded makes is 'please reduce the risk of this happening again'. In ADA's experience risk reduction is the best and cheapest option," concludes Mr Thomson.
---