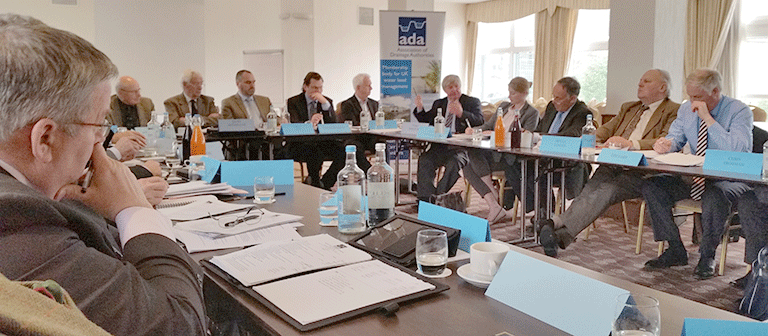 At their meeting on 14 February ADA's Board of Directors approved a new Business Plan for the Association setting out ADA's strategic direction through until 1 January 2021. The Plan clearly puts ADA's purpose as one championing and campaigning for the sustainable delivery of water level management. Offering guidance, leadership and support to the UK's flood risk, water level management and land drainage industry, whilst informing members of the public about our members' essential work. The report also shows ADA's organisational, membership and financial resources at the conclusion of ADA's previous Business Plan on 31 December 2016.
Commenting on the new Business Plan, ADA's Chairman, Henry Cator said: "This latest plan reflects ADA's key role in leading the development of our industry and setting ambitious but achievable strategic goals for us all. The Board looks forward to providing strong support to the ADA team in delivering the objectives we have set towards strengthening ADA's increasing national role. The new business plan reflects the views and priorities set by our branches and associate members. I am grateful to them all for their support "
 Crucially, it presents the four strategic and 17 operational objectives that ADA's Directors have set for the association to deliver on over the next three years.
ADA's Strategic Objectives are to:
Build and maintain strong and productive relationships with Politicians, Government, regulators, Government Agencies, asset owners, professional institutions and societies, and organisations with related interests.
Provide policy leadership within the flood risk, water management and land drainage sectors.
Set consistent objectives for, participate fully in, and receive feedback from ADA Branch events and meetings, and provide standing Agenda items to update Branches on national issues.
Through membership of EUWMA, examine the policy and processes of other water management authorities across Europe to the benefit of members, and establish and promote beneficial collaborations in research and development.
The Board will be closely following ADA's progress in these strategic areas but also across ADA's 17 operational objectives, including providing training packages for IDB Board Members, maintaining a comprehensive and up-to-date website with social media links and developing financial and non-financial data to benchmark the industry against and help promote it.
In addition the Board of Directors will work with ADA's Committees to develop and deliver on policy objectives that will be set annually. You can read about these workstreams for 2017 in the news item here.
Download: ADA Business Plan 2017-2020
---