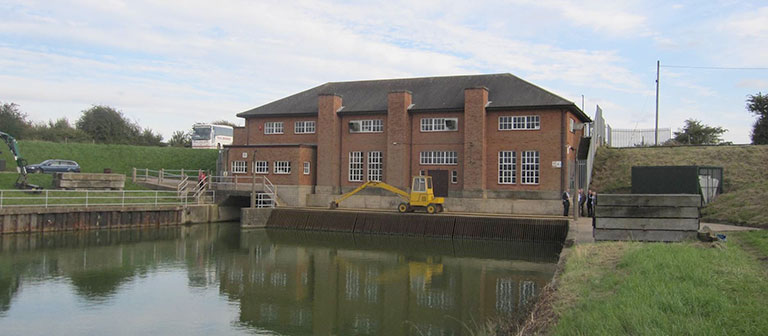 Hobholes Pumping Station, Witham 4th IDB
There's been a slightly longer gap than I would have wished since my last scribblings and my apologies for that. There is some excuse to offer based on the flurry of activity we have seen over the past couple of weeks. After much behind-the-scenes work, the excellent news is that Defra have now sanctioned progress on five pilot projects to allow the Environment Agency to hand over certain sections of "main" river to a selection of Internal Drainage Boards for them to operate and manage. If these pilots work, the intention is to make the transfer of operations permanent and allow the EA to "demain" those sections. Not only am I confident that these pilots will work, but I am also very hopeful that this is just the start of something bigger that will see sensible solutions being delivered locally where all the parties agree on who is best maintaining and operating what stretch of watercourse. The devil is, of course, always in the detail and there are various stages to achieve on the journey, not least agreeing on the funding mechanisms. Where mutual agreement cannot be reached, then the EA will continue to manage those watercourses. For more details, please see the ADA website news section.
The latest Gazette will have now popped through your letter boxes and I hope you enjoy this Spring edition. Ian and the team have done a great job once again and my thanks to their efforts in bringing it together. I think it is the first time we have used an artist's work on our front page and it was pleasure to have Fred Ingrams write our viewpoint piece around the fascinating landscape of our Fenlands.
Our headline piece this time covered the important subject of Glyphosate and many of you will be saying "about time too ! ". I make no excuses for stalling on this until we had more clarity on the argument for its safety. It does appear that politics got the better of science and extremely reliable sources have explained to me that much of the evidence to counter claims that Glyphosate could be a health risk was allegedly overlooked. The latest findings by the European Food Standards Agency, along with several other internationally reputable bodies have concluded that Glyphosate poses no unacceptable risks when used correctly. The latest news, however, from the European Chemicals Agency published on 15th March, whilst supporting the call that Glyphosate should not be classed as a carcinogen, has classified it as a substance causing serious eye damage and being toxic to aquatic life causing long-lasting effects.  ADA will continue to push for the maintaining of the licence for the use of Glyphosate for the targeted treatment of prolific aquatic weeds and we will be talking in more detail with Defra. It is also the industry's responsibility to demonstrate a carefully considered usage of Glyphosate and to ensure that local communities know it is being used and why. During our information gathering, I was also very interested to learn that quite a few nature reserves depend upon its use to control weed growth and, without it, the choking effects of excessive amounts of waterborne vegetation would lead to significant environmental deterioration in places.
Just as I write this, we have seen the publication of a National Audit Office report on Internal Drainage Boards and we have signposted it on the ADA website. The report focusses on governance and oversight arrangements, the process for raising concerns and the potential for conflicts of interest. Now that it is published, I see this report very much as a useful tool to help us tighten up on our industry processes and procedures, although there are some bits that have been written in an unhelpful context, especially around the environmental work that IDBs do. ADA has publicly responded to that and you can read it elsewhere on this website. Please do contact me or Ian if you would like to discuss any specific aspects of the report that concern you.
In amongst all the above excitement, we continue to prepare for another not-to-be-missed FLOODEX on 17th and 18th May and I am delighted to announce that, this year, we will be joined by special guest, His Royal Highness The Duke of Gloucester. We are also expecting Ministerial presence and many senior industry figures to attend. This year will also see the addition of a half-day Health & Safety training seminar aimed specifically at our IDB Board Members, CEOs and Clerks on the first day and IDB operations staff on the second day. It will be free to attend based on a first-come-first served basis and, importantly, will count for continuous professional development. There will be more detail released on that shortly, along with how to sign-up.
Over the past couple of weeks, I have also been making a number of visits to Westminster to see various MPs and attend meetings. Seeing the frightening pictures of the recent incident in Parliament Square and the Palace of Westminster was very sobering, especially when I realised that I had passed the very same spots the day before at roughly the same time. It will most certainly not stop me going about ADA's business there in future and my thoughts are very much with those innocent people who lost their lives and were injured.
---