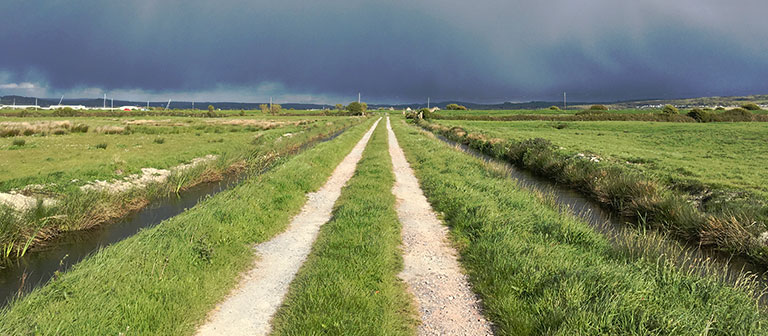 I took the photo heading this blog at Braunton Marshes, near Barnstaple, at the end of April and what a pleasure it was to visit this small but very beautiful IDB district. Partnership working is nothing new to them – for decades the IDB have been working alongside the Braunton Marsh Inspectors who function as a separate entity but rely upon the work of the Internal Drainage Board to help manage the water across this historic area. ADA are very proud to have Braunton Marsh IDB as our "furthest west" member and my thanks to the Chairmen of both the IDB and Marsh Inspectors for making me so welcome during my visit.
You might have thought that with the general election announced, all would go quiet for a while. Well, you were wrong ! Much work continues behind the scenes, and by necessity, free of political pressures, lobbying and influences under the rules of Purdah. The practical process questions around the de-maining pilots will continue to be worked on, preparations for FLOODEX continue at pace and, of course, the team are also working on the next edition of The Gazette, due for publication in early June. We are also reviewing parts of our membership fee structure, working on plans to up our game on public relations, and, of course, making sure that ADA is representing your voice on the national stage – more on that later. We are a small team and I am enormously grateful for all the work being done, not only by ADA's dedicated office staff but also by the wide range of volunteer members helping us to put ADA very much on the national map.
ADA's profile continues to attract new members and I am delighted to welcome the Coal Authority as one of our latest new recruits, as well as further associate and individual members. We are also seeing an increase in interest from Local Authorities once again, who recognise our level of constructive national influence on matters of drainage, water level and flood risk management.
As part of the election process, many sectors put forward a vast array of proposals to our debating politicians in an attempt to get even an innuendo of recognition in a manifesto pledge. ADA have played their part and by sharing our simple 7-point plan with prospective parliamentary candidates and the political party manifesto writers, we very much hope that water management is recognised in some way for the vital part it plays in all our daily lives. My summary of the 7 points is;
The need for long-term investment horizons
More partnership working
Total catchment management
Sustainable Drainage Systems
Supporting local governance of drainage, water level and flood risk management
Supporting Special Levy and Local Levy funding mechanisms
Supporting resilient regulation through and beyond brexit
Please take a look at the actual detail of our 7 key points on the ADA Website and, to help us spread the word, please do pass these on to your local parliamentary candidates.
The next couple of months are traditionally very busy for ADA with a welcome collection of Branch meetings, inspections and agricultural shows to add to the continued base-load of work. There's never a dull moment but what we are having to do is divide our time sensibly amongst the officers so that we can get round to as many of you as possible. Henry, Robert, Ian and myself all act very much as one team and we work together to ensure that one of us manages to get to each of the Branch meetings, shows and as many inspections as possible. This is where our ADA Forward Look is a useful planning tool on the ADA website and will let you see what our plans are up to two months ahead. Have a look at the latest update and you will see what I mean about being busy !
Busy is good……and, with your help, FLOODEX is going to be just that. Our exhibitors have given us the valuable confidence of their support once again this year and I am calling upon as many of you as possible to come and visit FLOODEX this year to support them and put on a show of strength for our industry. The messages from FLOODEX must be heard loud and clear by our politicians many of whom will be watching, listening and forming views and opinions in the run-up to 8th June. Together, let's help them focus on drainage, water level and flood risk management.
---