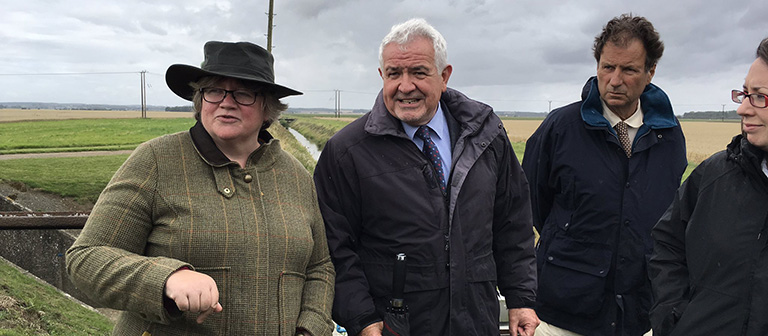 Thérèse Coffey MP with Ian Warsap (Chief Executive, Black Sluice IDB), Henry Cator (Chairman, ADA) and Abigail Jackson (Main River Rationalisation Local Lead, Environment Agency) 
On Thursday 3rd August Thérèse Coffey MP, Parliamentary Under Secretary of State for the Environment visited the Black Sluice catchment in South Lincolnshire with local risk management authorities including the Black Sluice IDB.
The internal drainage board (IDB) is one of seven across England working with the Environment Agency on five pilot projects identifying watercourses that may be better re-classified as ordinary watercourses. This will enable IDBs and Local Authorities to regulate and carry out work on these rivers. The Minister wanted to understand first-hand the procedures involved in de-maining and see the existing cooperation and partnership working taking place between risk management authorities in the catchment.
The visit was an opportunity for the Minister to reiterate the comments she made at the ADA Conference in 2016, that she is committed to enabling greater local management of watercourses where there is local support and agreement between the risk management authorities involved.
ADA has been working with the Environment Agency, Defra, local IDBs and local authorities involved with the pilots to establish a plan of action to:
consult the local community and other interested parties on whether they support the change in designation;
strengthen governance by ensuring local councils have a strong voice on the boards of the IDBs; and
strengthen local accountability through regular reporting on the work of the IDBs.
Currently those involved in the pilots are producing information packs that describe the main characteristics of the rivers and assets that will be transferred, and any known management and environmental issues which need to be considered. The next step with the pilots will be a series of public drop in meetings across the five pilot projects which will take place in October 2017.
---