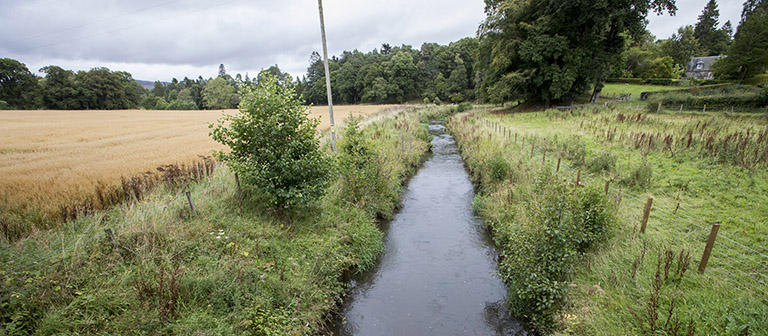 The Pow of Inchaffray is a drainage channel in Perthshire, eastern Scotland. It was constructed to drain surrounding land of approximately 1,930 acres. It originates at Methven Moss and meanders in a south-westerly direction for approximately nine miles until it reaches the River Earn, about two and a half miles south east of Crieff. Together with its ten main tributaries the Pow is the equivalent of 13.7 miles long. It is maintained by the Pow of Inchaffray Drainage Commission.
The origins of the Pow date back to the 13th century, with further work carried out in 1314 at the behest of King Robert the Bruce. The Pow was first given a statutory footing in 1696 in an Act passed by the old Parliament of Scotland. This was repealed by the 1846 Act which gave the Commissioners greater powers to enable them to carry out works and improvements on the Pow and also made provision for the costs of that work to be shared amongst the owners of land that benefited from the Pow and the work of the Commission.
Today the Commission's role remains to work to prevent flooding of low lying land in Strathearn, resulting in some of the most fertile agricultural acreage in Scotland. In addition, the Commission's work has made residential development possible in some areas, including a former sawmill site. It is therefore important to local heritors (occupiers of land) that the Pow continues to be maintained to prevent flooding in this area.
A Private Bill for an Act of the Scottish Parliament to incorporate and reconstitute the Pow of Inchaffray Drainage Commission was introduced to the Scottish Parliament in March 2017. The purpose of which is to update the existing Act to take account of changes in circumstance, including houses which have been built on land benefited by the Pow in more recent years.
A Bill Committee of members of the Scottish Parliament was formed to consider its progression. The Committee took evidence from the Drainage Commission, objections and correspondence, and visited the Pow of Inchaffray in September. ADA wrote a short correspondence to the Committee. On 3rd November the Bill Committee published their Preliminary Stage Report, which found that the Bill should proceed as a Private Bill to the Consideration Stage within the Scottish Parliament.
---