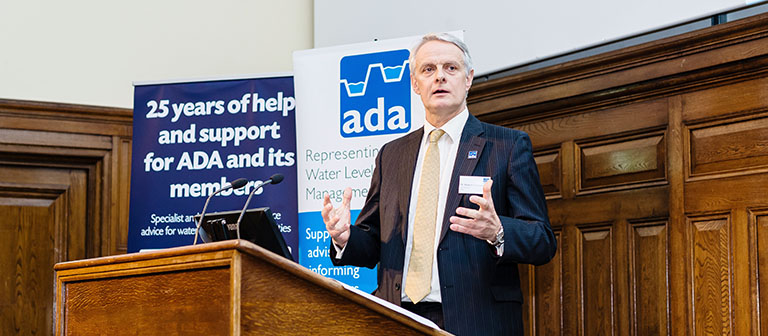 Robert Caudwell speaking at ADA's 80th Annual Conference, Institution of Civil Engineers, London
Our 80th Anniversary conference was a great success, with a sold out attendance, a great line up of speakers, a very good question time, and a fitting tribute from Lord Deben to our retiring chair Henry Cator.O.B.E.
As a start to my chairmanship I could not have wished for a better occasion. The minister was very clear on a number of issues that ADA has been lobbying her government on. Her support for a solution to the issue of abstraction licences has moved the debate further on.  We are working with DEFRA and the EA for a pragmatic result that will enable water level management across the catchment between IDBs and local EA officers to continue, to the benefit of farmers who wish to irrigate, wetland environmental areas that need high water tables and a sensible approach of partnership working during flood and drought.
Sir James Bevan was very open and honest about the challenges facing the Environment Agency and that main rivers would not be de-mained unless there is local support for this. ADA supports the DEFRA de-maining pilots and we hope that the next generation of de-maining opportunities will follow as soon as we have learnt lessons from the pilots. Having visited some of the pilot's areas, there is not a one size fits all answer and we must have a sensible, flexible approach going forward.
Cllr Derek Antrobus gave a fantastic presentation on the issues facing so many local authorities; Derek spoke of a whole catchment approach to flood management, taken by Salford city council, which I fully support, not the stop-start approach of defending urban areas, whilst ignoring the rural areas. The fact that his debate has been continuing since Victorian times shows it is our generation that needs to finally win this argument, and embed partnership working in across catchments as the only way forward to holistic water management, whether it be flooding or drought, the solutions must be found working together.
Derek also spoke of the pressure for more housing growth on urban areas to meet the demand from local people struggling to find housing, but also the increasing risk of surface water flooding in many areas. This could have been solved by a full implementation of the Pitt review recommendations, under the 2010 Flood and Water Management Act, of SUDS approval bodies delivered by Lead Local Flood Authorities. The present system of reliance on planning authorities is clearly not effective, and many developers are using the short term fix of management agreements. with no long term funding in place.
ADA are working hard with local authorities groups to offer solutions to government, whilst I support the need to build more houses to satisfy the increasing demand, we should not be adding to the misery of flood prone housing for future generations, when there are solutions that do not add significant cost to housing, but do require developers to support long term maintenance packages.
Since the conference I have had the opportunity to visit some of the ADA branches, and see the fantastic partnership working that is happening at a local level. I am keen to visit more areas and hope to be able to visit more ADA branches in 2018.
Robert Caudwell
---