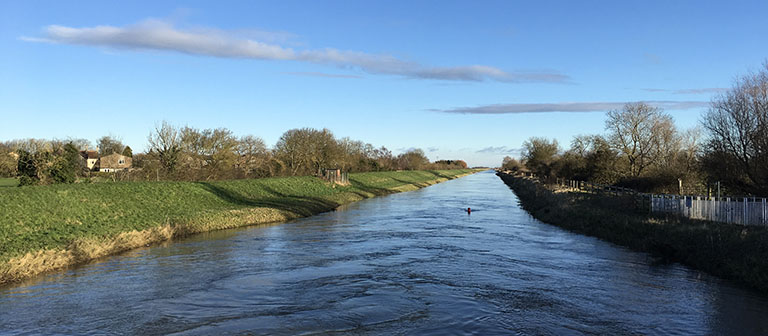 A downstream view of the Old Bedford River from Earith Sluice.
May I wish everyone reading this a very happy, healthy and prosperous New Year. As we all ease into 2018, it brings many opportunities for us all as well as the inevitable challenges that go with those opportunities. Whatever the situation, it is incumbent upon us all to advertise what we do to the public in such a way that they recognise the great value of the work that all ADA members are doing for the public's benefit. Make sure that the work you do is widely highlighted and let's make a big effort to share good practice and learn lessons from each other.
Along with Robert and Ian, I have started my year with a couple of truly inspiring visits to the Fens to see first-hand the excellent work ongoing with the Great Fen project and the wider Fens catchment challenges for the sustainable future management of water, its drainage and its preservation. Being a man used to the hills, I certainly appreciated the (very) big skies, wonderful long views and the intricate workings, environmental and social fabric of the Fens and we all have a real duty to try and preserve that going forward.
I am saddened as many will be to see the start of this week, and its associated "black" Monday, announcing the demise of Carillion. Many good people worked under its banner which over time has absorbed many of our well-known companies involved in water management. Perhaps as an industry we can offer olive branches to those good, experienced, skilled people now urgently looking for new jobs ? Many of us will know someone or a small company affected by this so let's do what we can to help them through these difficult times.
It is a very busy start for ADA with a variety of meaty subjects currently under debate and needing our comment. The new regulatory regime for Water Transfer and Abstraction licensing is now live but we still need to achieve a workable and fair understanding of the part that IDBs play in transferring water through their districts. Consultation is currently taking place on the new Environmental Permitting Regulations charging rules and we are quite concerned by what we have read. I believe that most of us accept the concept of such regulations being largely self-financing but they must not be seen as an open cheque book by the regulator without the necessary effort by them to cut costs and reduce the administrative burden to those they regulate. Once again, finding a fair and equitable solution will be crucial to making any new charging regime work. A perceived unfair or disproportionate system will simply backfire on the intended outcomes. It's quite a lengthy read but the more of us that express concern, the better chance we have of establishing a workable solution.
We are also working closely on methods and processes for updating the 1991 ratings systems with the intention of that allowing more flexibility of operation for the EA, IDBs and Local Authorities working together on managing and maintaining the various catchments around the country. We are hampered, however, by the need for revisions to legislation and seeking the necessary parliamentary time in the next 24 months may prove very difficult. In the meantime, Public Sector Co-operation agreements will help serve as a good interim measure to allow that flexibility of operation.
I welcome the publication of the 25-year Environment plan and I admire the considerable political skill of Michael Gove in carefully balancing its content and aspirations to meet with a wide spectrum of interested parties. The very encouraging part of it is the focus on getting the right behaviours in all of our daily lives in relation to the environment, our economy and general wellbeing. I have always believed that carrots are better than sticks and I am pleased that the plan, and the general reactions to it that have been expressed, rightly welcome this approach. The avoidance of unnecessary rules and regulations can generate negative behaviours and we now need to help translate the long-term goals of the Environment Plan into our everyday work plans.
2017 saw huge progress made on collaborative working and the power of a range of people, authorities and contractors all working together to drive down costs, increase efficiency and deliver improved services. For IDBs, 2018 will see us focussing heavily on Board governance and, with Defra's welcome support, we are about to embark on the preparation of a guide to help Board Members understand their roles and responsibilities. We will also be looking at a protocol for IDBs to get more consistently involved with incident and recovery management. For Local Authority members, we will be there to provide a support service to them on all matters on drainage, water level and flood risk management and we are working on a project to collaborate much more closely with the Local Authority SuDS association. For our Associate members, we hope to increase their exposure to our other members and assist them with creating networks and contacts in the development of their supporting businesses. And for our National Agency and RFCC members, ADA is very much looking to increase their engagement and support, particularly in relation to discussions and debate with government.
Despite quite constrained financial circumstances in 2017, ADA saw its membership grow overall and we move into 2018 very confident that the services and value we offer will continue to attract new members. I am also delighted to have discovered the existence of the very long-standing Pow of Inchaffray Drainage Commission in my native Scotland and it is currently passing through the parliamentary process of updating its current operating orders dating back to the mid 1800's. I look forward to meeting with them later this month.
I always like to finish on an upbeat note and I am very pleased that the majority of the demaining pilots have moved to the next phase with the formal public consultation period now underway. As you might expect from the very nature of pilots, the ones that have not yet moved forward have encountered a number of issues where there is a need to take stock, learn and find solutions for those issues.
---