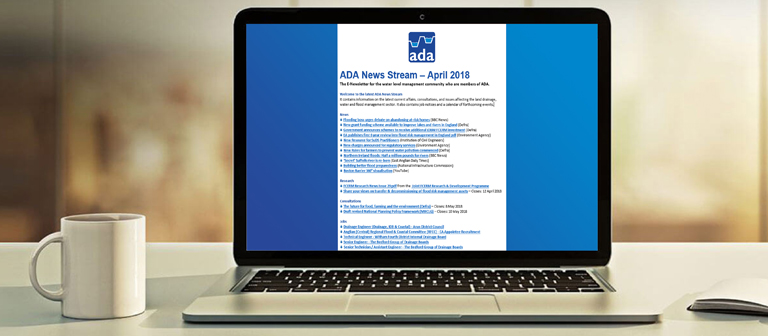 We have added further value to becoming an Associate Member of ADA by introducing a new Business & Innovation news section on our website and within our monthly e-newsletter, the ADA News Stream.
Business & Innovation will give Associate Members the opportunity to highlight to ADA's members developing news about their work, such as a project case study, product launch, or technical innovation. Our e-newsletter currently reaches 1,300 contacts across the flood and water level management sector, including the Environment Agency, Natural Resources Wales, IDBs and local authorities amongst others.
All new and existing Associate Members are invited to contribute an article of up to 500 words once per calendar year for free, which will be hosted on the ADA website. Each article will then be listed with a weblink in the next upcoming ADA News Stream email. For non-members, or for Associate Members placing additional articles, there will be a fee of £250+VAT.
Members have the opportunity to schedule which month they'd like to be featured on a first come, first served basis, so act now to make it part of an important launch or publication you have planned. To keep Business & Innovation exclusive and prominent we will be limiting the number of articles published in this section to six per month.
View the first Business & Innovation article now
For more details about the ADA News Stream or the Business & Innovation section, please contact Ryan Dixon, at ADA.
To find out more about the benefits of becoming a member of ADA please visit: https://www.ada.org.uk/become-a-member/
*ADA withhold the right to refuse any article copy. See ADA Gazette T&C for full details.
---