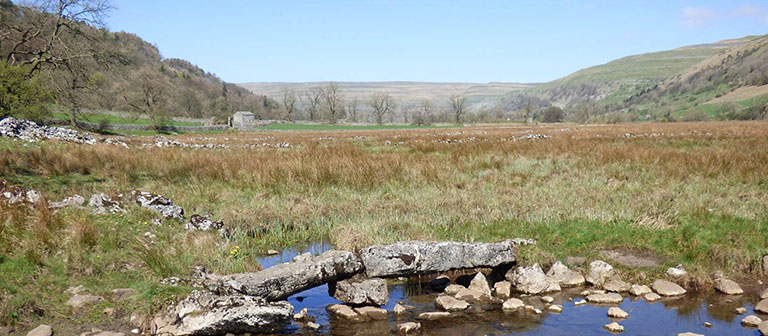 One of my favourite winter scenes in Upper Wharfedale, Yorkshire
If there is one thing that we can all be certain of, despite all the political shenanigans going on,  it is that our rivers, drains and watercourses will continue to need lots of TLC and, in the UK, we can be proud of how collectively and collaboratively we do that. We have come a long way in the past decade and we must continue to champion the good cause of partnership working to deliver local drainage, water level and flood risk management services. Let's give our embattled politicians something good to talk about when the dust settles !
I have just returned from France where ADA's equivalent organisation there, ASA de France, asked me to help them share how our IDBs work in the UK. There are many similarities between French IDBs and our own but there are also some considerable differences. Notably, there are many more IDBs there with over 2000 responsible for managing water in some form. And they are a pretty disparate lot, geographically. ASA de France is keen to try and create a unified approach and hence the ask of ADA to support them in that admirable cause. I did say that we have been trying for 81 years and I hope we are doing OK in present times. ASA de France have been going for 11 years so were relieved that they have 70 years to reach a similar point to ourselves. We did discuss "grass being greener on the otherside of the fence" and,  with brexit and gilets jaunes in the frame, we couldn't conclude whose grass was more appetising at the moment !
Thanks for all the great feedback we have received about the Good Governance Guide for IDBs and the team producing it can be proud of what they have created to help the industry – if you have not already done so, please sign up for one of the workshops in your area in March or April next year. We plan to bring an additional technical officer on board next year which I intend to help us deliver more guidance, advice and support to all our members as the need increases. That strengthening of our service becomes even more important to our Local Authority members who continue to feel the significant effects of financial constraint and we hope to persuade those who are currently not members to join us in 2019. Where else could you get an all-year service, someone at the end of the phone and a goldmine of technical advice, network knowledge and national influence for only £334+vat ?
I am also delighted that 2019 will see the launch of the Association of Suds Authorities (ASA in short – but not the French version ) and ADA looks forward to assisting them with the provision of membership admin services from April onwards. That collaboration will be a great way to bring sustainable drainage much higher up the agenda and encourage closer working between Local Authorities and IDBs for wider public benefit.
I am also excited about our 3rd performance of FLOODEX and all indicators are that it's building to be our best yet. Taking place in Peterborough on 27th & 28th Feb, we are this time including both the Irrigation and SuDS sectors alongside our core drainage, water level and flood risk management sectors. It is very much a free-to-attend trade show and its success depends on people attending. In the wings, we are once again offering a number of keynote seminars and I am hugely grateful to many industry-wide friends and colleagues who have agreed to speak. Take a look at the FLOODEX website at www.floodex.co.uk for more details and I hope to see you there.
It would be remiss of me to sign off without saying a huge thank you to all ADA staff and volunteers who have helped highlight our industry in a wonderfully enthusiastic way over the past 12 months. I know that it is not all smooth water out there, but the large majority have identified and built on the positives. Everywhere I have gone this year has provided me with inspiration around peoples' desire to provide a good, trusted and committed public service. This time of year can put undue strains on mental health and, apart from worrying about the parents-in-law coming for Christmas, just take time to positively reflect on all that you have done over the past year to make our communities better places. You will pleasantly surprise yourselves.
Finally, my hearty congratulations to our Technical Manager, Ian Moodie and his wife Alison on the birth of their firstborn son and may I take this opportunity to wish you all a very Merry Christmas and a Happy New Year.
Innes Thomson, Chief Executive, ADA
---