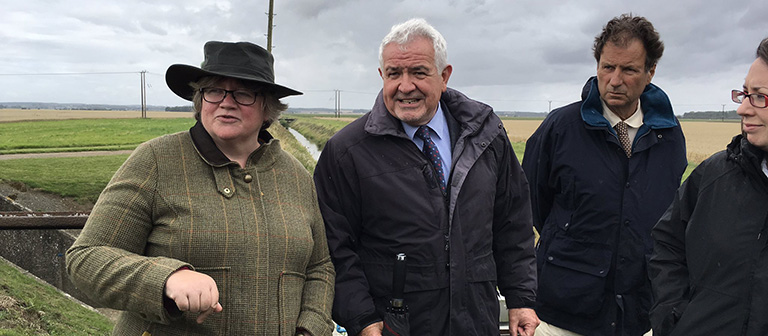 Thérèse Coffey (left) meeting with representatives from ADA, Black Sluice IDB, and the EA in 2017.
Theresa Villiers has replaced Michael Gove as Environment Secretary at Defra by new Prime Minister Boris Johnson at the end of July.
Theresa Villiers is MP for Chipping Barnet and served as Minister of State for Transport and then as Secretary of State for Northern Ireland under the Coalition Government. One of her first actions as Secretary of State has been to visit Whaley Bridge, where she met with emergency response teams working to drain down the Toddbrook Reservoir, and stabilise the dam.
Michael Gove has moved to the Cabinet Office as Chancellor of the Duchy of Lancaster. He is heading up the Government's preparations for a 'no-deal' exit from the European Union by the UK.
Remaining at Defra, Suffolk Coastal MP, Dr Thérèse Coffey, who was a vocal supporter of Boris Johnson's leadership campaign, has been promoted to Minister of State from her previous role as Under Secretary of State within the Department, which she had held since 2016.
George Eustice returns to the Department in a Ministerial role, having resigned from Theresa May's Government back in February over the Government's decision to allow a Parliamentary vote on the extension of Article 50, delaying the UK's departure from the European Union. Ministerial responsibilities for Thérèse Coffey and George Eustice have yet to be confirmed, but are expected to remain as they were previously.
Zac Goldsmith, MP for Richmond Park replaces David Rutley MP as Parliamentary Under Secretary of State at Defra. He is combining this role with another junior Ministerial role that he has been given at the Department for International Development. His responsibilities will include: animal welfare, marine, biodiversity and environment, domestic forestry, international forestry, and climate change.
Lord Gardiner of Kimble remains at Defra as Parliamentary Under Secretary of State for Rural Affairs & Biosecurity and as the Department's spokesperson within the House of Lords.
---