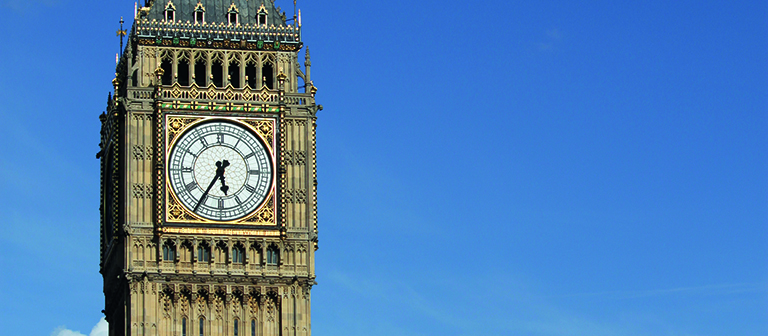 In response to the general election scheduled for 12th December 2019, ADA has provided political leaders with seven key policy pointers to help reduce flood risk and deliver effective water level management.
ADA, the representative body for drainage, water level and flood-risk management authorities, is ready to support the next government in managing and maintaining the water systems to the environmental and engineering standards expected. In return, it is looking for every political party to reflect and consider its position towards good water management.
Flooding and drought know no political or social boundaries and everyone in the UK is in some way affected by the management of water. As a foundation stone of society, it is essential that any government gives proper consideration to water level and flood risk management. Failure to do so, may result in considerable exposure to risk.
Robert Caudwell, ADA's chairman said, "As Britain prepares to return to the polls, flooding and the management of water will very much be in the minds of many constituents in light of our changing climate, especially those effected by the recent and increasing occurrences of river, coastal and surface water flooding.
"At the same time a dry summer in certain parts of the country has once again brought Britain's water resources into close focus and we risk drought conditions in 2020 if we have a 'dry' winter. During the election campaign, ADA's members and indeed the general public, will want to understand how each of the political parties plan to support effective and sustainable flood and water level management in the future."
Mr Caudwell continues, "In the lead-up to the election, ADA will work to help and ensure that all parties fully understand and engage with the issues facing the flood and water level management sector in a post-Brexit environment."
ADA's seven key policy asks for better drainage, water level and flood risk management
1. Long term investment horizons in the face of climate change challenges
Flood risk management delivers enduring benefits and authorities involved need to be able to plan ahead financially over multiple years and need to receive a sensible balance of capital and revenue funding, spread across the river catchments, in order to find efficiencies through climate change adaptation and resilience, and attract business investment.
2. Promote co-operation and partnership working to manage the water environment and reduce flood risk
Close cooperation between flood risk management authorities, water companies, communities, business and land managers needs the continued strong support of government to deliver adaptive and resilient flood risk maintenance and similar activities more efficiently and affordably.
3. Total catchment management
Total catchment management is now the widely accepted approach to managing our water and now is the time to increase and empower local professionals and communities to manage and operate these catchments together.
4. Sustainable drainage systems (SuDS)
The next government needs to fully implement Schedule 3 of the Flood & Water Management Act 2010, to ensure future development can keep pace with the challenges of the changing climate, by ensuring that SuDS are maintained over the lifetime of a development.
5. Support local governance in flood and water level management decision making
In some parts of England there is an appetite for greater local maintenance delivery on watercourses and flood defence assets than that currently afforded from national investment. This can be achieved via the careful transfer of some main river maintenance to local bodies or the expansion of areas maintained by those local bodies, such as Internal Drainage Boards, where there is local support and transitional funding.
6. Local Government Finances
It is vital that Special and Local Levy funding mechanisms for drainage, water level and flood risk management continue to be part of this funding landscape to maintain the democratic link with local communities affected.
7. Brexit: Ensuring a resilient regulatory framework for the water environment
The next government needs to provide clear policy messages about how they wish to make the delivery of environmental improvements to the water environment easier and more effective as we transition from European legislation such as the Water Framework Directive.
ENDS
Notes to Editors
ADA
ADA is the membership organisation for those involved in drainage, water level and flood risk management. Its members include Internal Drainage Boards (IDBs), the Environment Agency, Regional Flood Defence Committees, Local Authorities, Natural Resources Wales, the Northern Ireland Rivers Agency, Consultants, Contractors and Suppliers.
ADA is involved in a wide range of work for and on behalf of its members helping to exchange ideas towards solving common problems and finding new, better ways of working. ADA responds to consultations from the Government, either on behalf of members or assisting with individual member responses. It represents all interests nationally and locally in relation to drainage, water level and flood risk management, for example, in relation to legislation and public inquiries. ADA acts together with other organisations to pursue the Association's objectives, including linking to Europe through ADA's membership of EUWMA, the European Union of Water Management Associations.
ADA obtains and shares information on matters of importance and interest to members, and provides advice on technical and administrative problems. ADA is supported by a volunteer network of branches which bring together members for meetings at a regional level. ADA organises exhibitions and meetings for the benefit of members, maintains a website at www.ada.org.uk and publishes the quarterly ADA Gazette.
ADA is a limited company employing 6 staff with offices based at Stoneleigh Park in Warwickshire. ADA welcomes enquiries from the press and can be contacted during normal weekday office hours at 02476 992889 or by e-mail at admin@ada.org.uk.
For press enquiries please contact:
Eur Ing J Innes Thomson BSc CEng FICE
Chief Executive
Association of Drainage Authorities
Rural Innovation Centre, Avenue H, Stoneleigh Park, Warwickshire CV8 2LG
Office: 02476 992889
Website: www.ada.org.uk
Ian Moodie MSci
Technical Manager
Association of Drainage Authorities
Rural Innovation Centre, Avenue H, Stoneleigh Park, Warwickshire, CV8 2LG
Office Tel: 02476 992 889
Email: ian.moodie@ada.org.uk
Ryan Dixon
Publications & Communications Officer
Association of Drainage Authorities
Rural Innovation Centre, Avenue H, Stoneleigh Park, Warwickshire, CV8 2LG
Office Tel: 02476 992 889
Email: ryan.dixon@ada.org.uk
For any other press enquiries please contact Stuart Booker, Kendalls 07841 655379 or stuart.booker@kendallscom.co.uk. Issued on behalf of ADA by Kendalls.
---