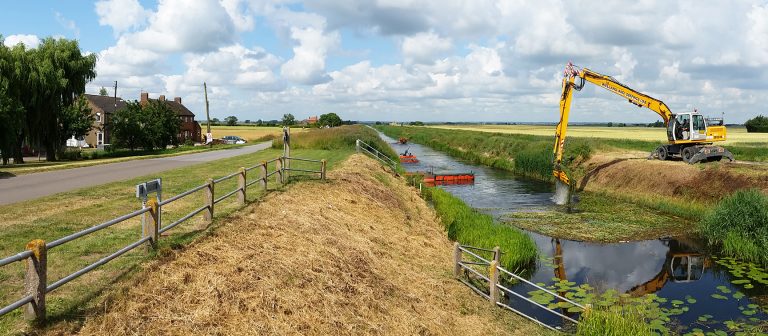 The following areas of work will be prioritised by the ADA Team in 2020:
Education resources ADA wants to raise the awareness of the work of the drainage industry within schools; ultimately to attract interest in careers in the industry. We are working with LEAF Education to develop resources aimed at discussing the topic of lowland water level management with secondary school children within the Key Stages 3/4 Science and Geography curriculums.
The project now has two clear outputs:
1. Production of a pack, for delivery in schools, with a focus on flooding – causes, effects and solutions
2. A field visit pack for school/group trips to a watercourse and/or pumping station, including practical activities.
LEAF is making good progress in the development of these resources, which should be ready in early summer for trialling in schools. ADA will shortly be contacting IDBs about training opportunities that we will be offering free of charge for member authorities' officers to become educational ambassadors for the sector. Each will be asked to provide summary details of any pumping stations or other locations they could make available for educational group visits in the future.
Developer contributions The intention is to provide reliable and consistent guidance to IDBs when considering how a development might impact on the efficient flow of water through their systems. It also looks at financial contributions from developers that may be required to accommodate increased flows and mitigate any adverse impacts. Draft guidance is nearly complete, containing annexes providing best practice examples from a number of risk management authorities.
Model byelaws A list of proposed revisions to the model IDB byelaws has been prepared by an ADA working group and shared as a formal request for change with Defra. The proposed changes relate to: the coverage of the byelaws for certain designations of watercourses and water infrastructure; the control of water introduced, or increases in flow or volume that are not a result of development; and minor amendments to remove potential contradictions related to fencing near watercourses.
Health & Safety Support In order to take forward ADA's commitment to enhancing health and safety within the sector, ADA will be drawing together resources during 2020 in order to host a series of regional workshops in early 2021. These workshops aimed at IDB Board members will cover health, safety and environmental training.
IDB Nature Strategies ADA is proposing to provide updated guidance and templates for IDB Biodiversity Action Plans. The changes will include a refresh to reflect recent Government policy changes, create new nationally reportable metrics that will help us report on ADA's delivery of enhancement to the natural environment, and a more publicly accessible name: 'IDB Nature Strategies'.
IDB Environmental Governance ADA has agreed a project proposal with Defra for developing guidance to supporting the environment specifically relating to the work of IDBs. The guide and subsequent training will be targeted at the Board Members of IDBs, and build on the ADA Good Governance Guide for IDB Members (2018). Publication is targeted at the ADA Conference 2020.
EUWMA Presidency 2019-20 ADA was looking forward to hosting the mid-term technical meeting of the European Union of Water Management Authorities (EUWMA) in Norfolk and Suffolk on 21-23 June. Given the outbreak of coronavirus, ADA will be looking to meet with EUWMA colleagues remotely in order to learn more about how local and regional water level management bodies across Europe have created opportunities for multifunctional water management. ADA is also working to assist EUWMA with constitutional changes that would broaden EUWMA's membership and enable ADA's continued membership following the UK's exit from the EU.
Association of SuDS Authorities (ASA) ADA is one year into an initial three year service level agreement to deliver administrative services to ASA, as this new association grows in strength and delivers a voice for local authorities role in sustainable drainage and surface water management.
---