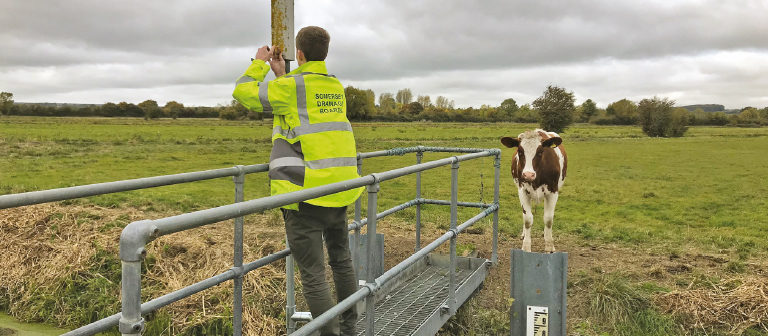 The new Level 3 Water Environment Worker Apprenticeship Standard has now been approved for delivery, providing IDBs, the Environment Agency, local authorities and others with a wonderful opportunity to attract and develop talented people from all backgrounds. The Standard aims to provide apprentices with specific transferable skills and bespoke training to excel in the maintenance, repair, and management of a variety of water environment assets and habitats.
This new Apprenticeship Standard has been developed and approved by the Institute for Apprenticeships and Technical Education, which is sponsored by the Department for Education to develop and approve high-quality apprenticeships and technical qualifications that provide the skills required in England's workforce. The Institute has worked with a number of relevant employers to develop this particular Standard, including the Environment Agency, Somerset Drainage Boards Consortium, Cambridgeshire County Council, National Trust, Inland Waterways Association, Canal & River Trust, and Land & Water Group Ltd.
Commenting on the new Apprenticeship Standard, ADA's Technical Manager, Ian Moodie, said: "I am delighted that Carrie-Anne [Morgan] was able to represent the views of IDBs across the country during the Standard's development. Her involvement has ensured that a specialist pathway was included within the Standard to fully meet the development needs of IDBs. ADA strongly recommends that our members utilise this pathway to attract and grow the skills of those leaving education into our fascinating occupation."
The standard covers a range of topic areas related to the water environment, including: managing assets, responding to major incidents, flood risk & drainage, working with volunteers, water level management, and maintaining & working with heritage assets. The Somerset Drainage Boards Consortium have been using this Standard with Bridgwater &; Taunton College to create an IDB training framework.
If you are interested in finding out more about the apprenticeship, please speak with Carrie-Anne Morgan (c-amorgan@somersetdbs.co.uk) from the Somerset Drainage Boards Consortium, or the Apprenticeship Trailblazer Chair, Paul Cross (paul.cross@environment-agency.gov.uk).
To find out more about this Apprenticeship Standard, please visit www.instituteforapprenticeships.org and search for Water Environment Worker.
Image: A trainee water level management technician checks on a tilting weir on the Somerset Levels whilst one of the locals looks on (Phil Brewin)
---