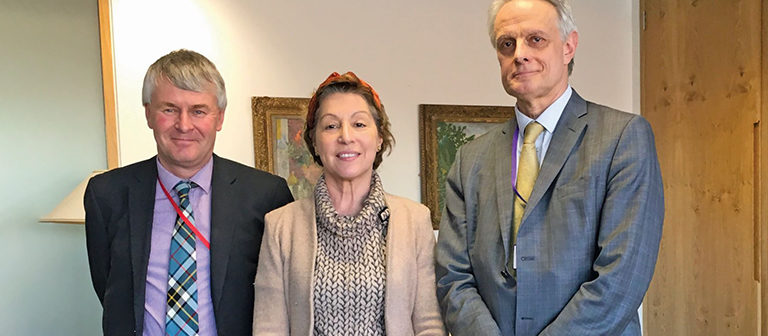 Food supply chains may be impeded unless the strategic importance of river management and maintenance is recognised and supported by Government, Defra minister Rebecca Pow MP has been advised in a letter from ADA chairman, Robert Caudwell.
ADA, the membership organisation for drainage, water level and flood risk management authorities, warns that neglecting strategically important activities on watercourses in the spring and summer months could have serious consequences, not only for the agricultural sector, but also for more vulnerable people, communities and businesses.
In the letter to Ms Pow, the Parliamentary Under-Secretary of State at Defra with responsibilities for floods and water, Mr Caudwell welcomes Defra's keen interest in maintaining food supplies as 'we all try to bring the COVID-19 outbreak under control'.
While many are understandably focusing on the 'here-and-now' during the current crisis, ADA is looking ahead to the autumn and winter period 2020.
Mr Caudwell strongly advocates the importance of planning ahead and taking actions in the coming months, to minimise the risks of flooding when people, businesses and the environment will be least able to cope, in the immediate aftermath of the COVID-19 situation.
Calling on Defra's support, Mr Caudwell states that reduced maintenance and management may also seriously hamper the recovery of various areas which experienced considerable suffering to people, business disruption and environmental harm as a result of the recent winter floods.
"ADA considers that the maintenance of our watercourses falls into the category of 'Strategically Important Assets' as defined in guidelines issued by the Environment Agency during the COVID-19 outbreak," said Mr Caudwell.
"I very much hope that, in the light of the warnings from the chiefs of the World Health Organisation, World Trade Organisation and United Nations, Defra will support us in ensuring that the basics of our excellent water management system continue to be prioritised, with full awareness of the future potential risks we face if we do not."
The letter follows an earlier meeting with the Minister, along with Mr Caudwell and ADA chief executive Innes Thomson, during which Ms Pow talked of her support for ADA's continued commitment to a total catchment approach to water and flood risk management.
ENDS
Notes to Editors
ADA
ADA is the membership organisation for those involved in drainage, water level and flood risk management. Its members include Internal Drainage Boards (IDBs), the Environment Agency, Regional Flood Defence Committees, Local Authorities, Natural Resources Wales, the Northern Ireland Rivers Agency, Consultants, Contractors and Suppliers.
ADA is involved in a wide range of work for and on behalf of its members helping to exchange ideas towards solving common problems and finding new, better ways of working. ADA responds to consultations from the Government, either on behalf of members or assisting with individual member responses. It represents all interests nationally and locally in relation to drainage, water level and flood risk management, for example, in relation to legislation and public inquiries. ADA acts together with other organisations to pursue the Association's objectives, including linking to Europe through ADA's membership of EUWMA, the European Union of Water Management Associations.
ADA obtains and shares information on matters of importance and interest to members, and provides advice on technical and administrative problems. ADA is supported by a volunteer network of branches which bring together members for meetings at a regional level. ADA organises exhibitions and meetings for the benefit of members, maintains a website at www.ada.org.uk and publishes the quarterly ADA Gazette.
ADA is a limited company with offices based at Stoneleigh Park in Warwickshire. ADA welcomes enquiries from the press and can be contacted during normal weekday office hours on 02476 992889 or by e-mail at admin@ada.org.uk.
For press enquiries please contact:
Eur Ing J Innes Thomson BSc CEng FICE
Chief Executive
Association of Drainage Authorities
Rural Innovation Centre, Avenue H, Stoneleigh Park, Warwickshire CV8 2LG
Office: 02476 992889
Website: www.ada.org.uk
Ian Moodie MSci
Technical Manager
Association of Drainage Authorities
Rural Innovation Centre, Avenue H, Stoneleigh Park, Warwickshire, CV8 2LG
Office Tel: 02476 992 889
Email: ian.moodie@ada.org.uk
Ryan Dixon
Publications & Communications Officer
Association of Drainage Authorities
Rural Innovation Centre, Avenue H, Stoneleigh Park, Warwickshire, CV8 2LG
Office Tel: 02476 992 889
Email: ryan.dixon@ada.org.uk
For any other press enquiries please contact Stuart Booker, Kendalls PR on 07841 655379 or stuart.booker@kendallscom.co.ukstuart.booker@kendallscom.co.uk. Issued on behalf of ADA by Kendalls PR
---