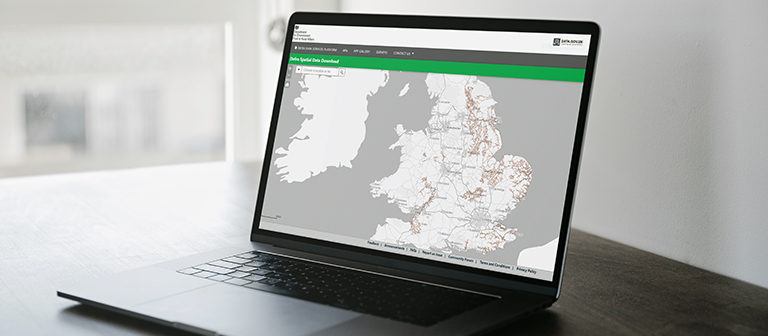 The Association of Drainage Authorities (ADA) has today published digital vectors of the boundaries of all 113 internal drainage districts in England for the first time. Whilst indicative, this geospatial data is the most comprehensive and consistent national dataset of the administrative boundaries of every internal drainage board (IDB).
Each IDB is a local independent public body that manages water levels in the corresponding internal drainage district. IDBs undertake works to reducing flood risk to people and property, and manage water levels for agricultural needs and for the protection and enhancement of the environment within their district. IDBs are defined as a type of Risk Management Authority under the Flood & Water Management Act 2010.
ADA has worked closely with IDBs and the Environment Agency (EA) to publish this geospatial dataset in an open and accessible format. It is based upon GIS layers and original paper maps gathered directly from IDBs across the country. Digitisation was completed on behalf of ADA by Kate Pollard at the Middle Level Commissioners.
ADA's Chair, Robert Caudwell, commented: "The publication of this geospatial data is an important step in making IDBs more accessible and visible to the public, developers, environmental partners, and other authorities."
You can download these digital vector boundaries from the Defra Data Services Platform.
What is geospatial data?
Geospatial data is about places. It might be about a specific building, a river or other natural feature, or a broader location like a city or a country. Maps are geospatial data that has been visualised. That same data can be used in many other ways. It can help us find efficient transport routes, plan homes and businesses or identify areas at risk of flooding.
Much of the value of geospatial data comes from using it as raw data that can be used to deliver insights into the state of our natural environment, implement policy and help us make decisions in our daily lives. The most useful insights come from using two or more layers of geospatial data. Combining multiple datasets helps us perform more complex analyses – it means we can explore different aspects of the landscape in which we live and work.
By sharing geospatial data people and organisations within different sectors can gain new insights into the world around us.
Licencing the data
The dataset is licensed under the Open Government Licence 3.0 (OGL). The OGL is a tool developed by the National Archives for public sector bodies to license the re-use of their data easily. It consists of a simple set of terms and conditions to which public sector bodies simply point as the relevant licence.
The OGL does not grant users any right to use the data in a way that suggests any official status or that the provider endorses the user or their use of the data. Users of licenced data must acknowledge the source of the information. The data is licensed 'as is' and the data provider is not liable for any errors or omissions in the data, nor for any loss, injury or damage of any kind caused by its use.
---