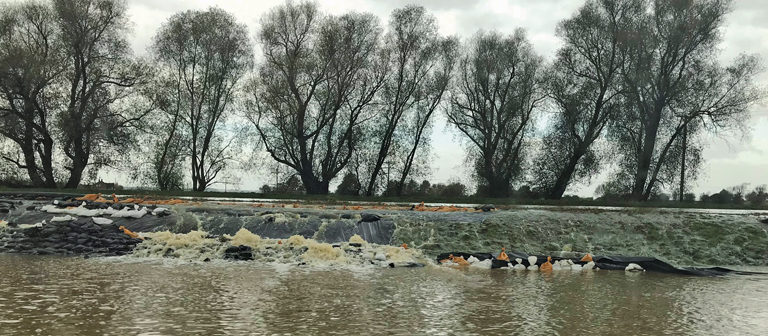 The embanked Billinghay Skirth main river overtopping onto the A153 near Ruskington, Lincs. (Peter Gilbert 29.11.2019)
ADA (Association of Drainage Authorities) welcomes the publication of the House of Commons Environment Food & Rural Affairs Committee's report into flooding published on Monday 8 February 2021. The Committee's findings are clear-sighted, broad ranging, and well researched. Amongst the Committee's findings, they highlight: the need for greater certainty around flood resilience as an objective, ensuring that existing network of flood assets are properly maintained, and an absence of support for the long-term recovery of flooded communities.
ADA strongly welcomes the doubling of investment in capital funding for flood risk management in England announced in the Budget 2020 (£5.2 billion between 2021 and 2027). ADA is however increasingly concerned about continued pressures and lack of a long-term view on revenue budgets for flood and coastal erosion risk management (FCERM) within the Environment Agency. Maintenance spending is not adequately keeping pace with the challenge posed by an aging asset base, the increasing frequency and severity of flood events, and the delivery of an ambitious capital investment programme. The Environment Agency estimates that its maintenance and repair costs could increase by 20 to 70% every year up to 2050 due to climate change.
Spending allocations for Environment Agency FCERM operations and maintenance in 2021/22 are yet to be announced by Defra, but ADA fears a real terms reduction once this winter's further flood repairs are taken into account.
Worryingly, the National Audit Office (NAO) found that the number of properties at risk of flooding owing to the condition of the Environment Agency's assets had increased by 171% in 2019/20 to 189,000, owing to flood events. Such events included an alarming number of breaches to embanked main rivers, such as at Wainfleet, Lincolnshire in June 2019. These inundated thousands of hectares of land, severed transport links, highlighting a lack of investment in maintenance within lowland main river systems. Failures in such systems, even where areas are sparsely populated, can represent a significant risk to life, damage to local economies and the environment, and result in prolonged flooding, with substantial repair and recovery costs. ADA is concerned that there has been a lack of funding to focus on maintaining these critical embankments in a good condition, both in terms of channel capacity and embankment stability.
A lack of long-term revenue funding also holds back opportunities to further utilise local support and engagement with other Risk Management Authorities. Internal drainage boards have delivered millions of pounds worth of work for the Environment Agency through Public Sector Cooperation Agreements in recent years. These works, often maintaining lengths of main river and embankments within their drainage districts, have provided typical efficiencies of 5-10%. This ongoing partnership needs long-term commitment from both parties given the need to invest in the appropriate equipment and expertise.
Welcoming the EFRA report, Innes Thomson, ADA's Chief Executive commented:
"Government must now aim to put in place a long-term revenue budget settlement for FCERM that is aligned and balanced with the increased multi-year capital investment programme, so that the Environment Agency and other Risk Management Authorities are able to effectively and efficiently plan and maintain England's flood and coastal risk management assets and systems."
ENDS
Notes to Editors
ADA is the membership organisation for those involved in drainage, water level and flood risk management. Its members include Internal Drainage Boards (IDBs), the Environment Agency, Regional Flood Defence Committees, Local Authorities, Natural Resources Wales, the Northern Ireland Rivers Agency, Consultants, Contractors and Suppliers.
ADA is involved in a wide range of work for and on behalf of its members helping to exchange ideas towards solving common problems and finding new, better ways of working. ADA responds to consultations from the Government, either on behalf of members or assisting with individual member responses. It represents all interests nationally and locally in relation to drainage, water level and flood risk management, for example, in relation to legislation and public inquiries. ADA acts together with other organisations to pursue the Association's objectives, including linking to Europe through ADA's membership of EUWMA, the European Union of Water Management Associations. ADA obtains and shares information on matters of importance and interest to members, and provides advice on technical and administrative problems. ADA is supported by a volunteer network of branches which bring together members for meetings at a regional level. ADA organises exhibitions and meetings for the benefit of members, maintains a website at www.ada.org.uk and publishes the quarterly ADA Gazette.
ADA is a limited company employing 6 staff with offices based at Stoneleigh Park in Warwickshire. ADA welcomes enquiries from the press and can be contacted during normal weekday office hours at 02476 992889 or by e-mail at admin@ada.org.uk.
ENDS
For press enquiries please contact:
Ian Moodie MSci
Technical Manager
Association of Drainage Authorities
Rural Innovation Centre, Avenue H, Stoneleigh Park, Warwickshire, CV8 2LG
Office Tel: 02476 992 889
Email: ian.moodie@ada.org.uk
---