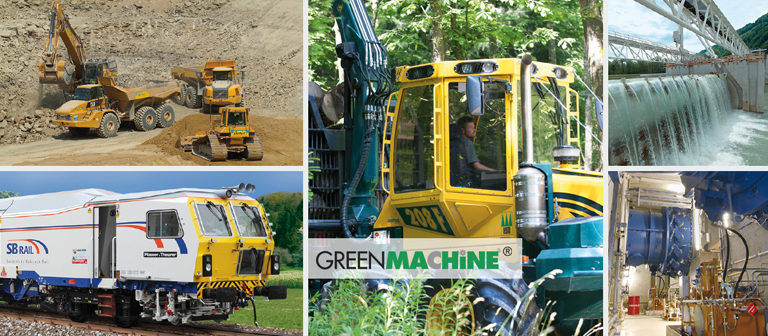 The PANOLIN Group is an independent family owned company with headquarters and production facility in Switzerland. The company was established in 1949 by Bernhard Lämmle.
PANOLIN is a full range lubricants supplier with its core competence in high performing Environmentally Considerate Lubricants / Environmentally Acceptable Lubricants (ECLs/EALs) since 1983.
The extensive PANOLIN range offers a Readily Biodegradable Long Life solution which can support the drive to reduce Carbon emissions.
PANOLIN is active internationally with fully owned subsidiaries and longterm distribution partners.
In industries such as Flood Defence, Water Management , Dredging, Marine, Offshore, Subsea and Construction, PANOLIN is a statement for advanced technology, environmental responsibility and security.
Several years ago this exceptional level of High Performance, Technical expertise and experience, gained in major projects, created an opportunity for PANOLIN ECLs to be used in one of The UKs most ambitious Flood defence projects.
In 2018 construction work began on the £100 million Boston Barrier project designed to protect 14 000 homes and countless businesses at risk from future storm surge flooding such as the 2013 event which flooded over 820 homes and businesses. Due for completion December 2020, the barrier will have the ability to control water levels and protect the town from the forecast sea level rises for 100 years. The engineered solution delivered by BMMJV a joint venture between BAM Nuttall and Mott MacDonald for the Environment Agency comprised of three build phases, including installation of a 25 metre wide rising gate across the section of the River Witham.
Designed to deploy within an ambient temperature range between – 20 °C and 50 °C, the barrier gate will be operated via a new control building and powered by three hydraulic power units designed and built by IMH with two cylinders, each cylinder weighing in excess of 57 tonnes; designed and manufactured by Hunger Hydraulics. Because of the hydraulics proximity to the river, further consideration was given to the environmental impact of the project and PANOLIN HLP SYNTH biodegradable hydraulic fluid was identified as the lubricant of choice for the system. With over 35 years experience supplying biodegradable lubricant solutions in various applications around the world, PANOLIN were able to provide a fluid that not only met the demanding environmental protection aspects of the project; but also with the high-performance characteristics to cope with both low temperature fluidity and the high temperature thermal oxidation resistance required of the fluid whilst in use in the barrier hydraulic system. It is a well-known fact within certain industries that PANOLIN fluids have the capability to extend oil drain intervals and thus reduce maintenance costs, making the fluid very cost effective over the life cycle of the equipment. Therefore, we at PANOLIN anticipate the Boston Barrier hydraulic system to deploy efficiently for many years to come with the use of PANOLIN HLP SYNTH and realise both the environmental and operational benefits of the product whilst protecting the local community from potential flooding.
www.facebook.com/BostonBarrier | www.bamnuttall.co.uk | www.hunger-hydraulic.co.uk | www.imh-uk.com/casestudies/boston_barrier/ | www.gov.uk/goverment/organisations/environment-agency
In The UK PANOLIN are based in Leeds, West Yorkshire, they hold significant stocks of key grades, can provide excellent Technical support to Clients and offer a Used Oil Analysis service for their Readily Biodegradable Lubricants
For further information please contact; Admin@panolin.co.uk Telephone; 0044 (0) 113 543 1549
---