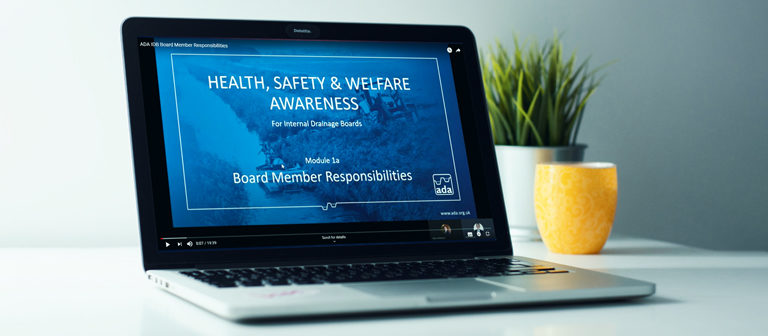 The first three health safety and welfare (HS&W) Awareness Modules have been published on the ADA website to help board members of Internal Drainage Boards (IDBs) to better understanding what they can do to keep their staff and others safe and well, and successfully lead their IDB.
The modules were developed by ADA's Health, Safety & Welfare Sub-Committee in conjunction with expert consultants at Ellis Whittam. The first two modules cover board members' responsibilities in relation to HS&W, with the third covering the management of risk. Each module provides an overview of the topic in 15-20 minute video presentations, an ideal length to be incorporated easily into a board meeting agenda.
These awareness modules are a great tool for IDBs to strengthen their HS&W provisions and demonstrate their ongoing commitment to creating and maintaining a safe and healthy working environment for those who are involved in and impacted by their operations.
ADA would welcome feedback on these first three modules as we look to develop more modules later in the year covering other relevant areas of HS&W. Topic will include: near miss and accident reporting, welfare and wellbeing, managing training requirements, and working near services.
For more information and to provide feedback please contact sofi.lloyd@ada.org.uk

---