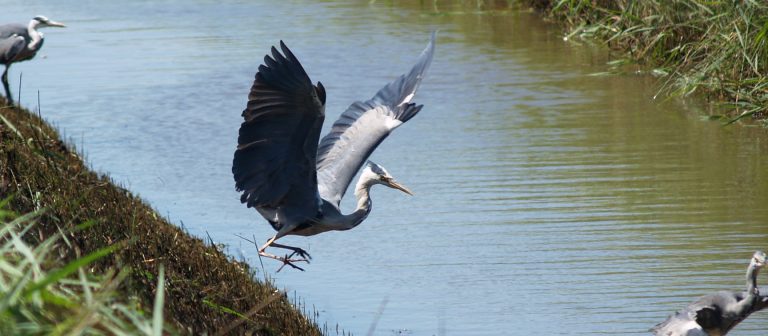 ADA has today launched its first National Annual Biometrics Survey for Internal Drainage Boards. The survey is another major milestone in its Data and Evidence project which aims to collect, collate and interpret a range of data to better explain the value and purpose of IDBs to decision makers and the wider public.
Never has there been greater focus on protecting and enhancing our biodiversity as there is today. Ecosystem services provided to us by a healthy and thriving environment are now well recognised as being key to maintaining our own health and wellbeing.
Introducing the new Biometrics Survey, Sofi Lloyd, ADA's Technical Officer, said: "These metrics will enable us to gather data demonstrating the proactive contribution that IDBs are collectively making to improve the natural environment across England's lowlands. IDBs are collectively one of the largest managers of freshwater and wetland habitats and species. Consequently, IDBs have a critically important role to play in conserving and enhancing these habitats in particular."
Background
The development of IDB Biodiversity Metrics was a priority workstream agreed by the ADA Technical and Environment Committee. It was felt that urgent, more detailed and increased promotion of the actions IDBs undertake to support biodiversity was needed in order to help to dispel some negative misconceptions around the impacts that IDBs can have on the environment. The Defra Policy Advisory Group (PAG) and a number of other environmental stakeholders have also requested information on "core standard actions" to evidence how IDBs contribute to national environmental policies and priorities.
There is a strong political and social requirement for quantifying and valuing biodiversity. The Environment Bill sets legally binding requirements for the Government to report on progress against the targets set out in the 25-Year Environment Plan. To help the Government to achieve this, the Bill sets out a number of processes which are reliant upon the collection and analysis of quantitative environmental and biodiversity data. Those with legislated environmental duties such as IDBs can expect to be called upon more formally and regularly in the future to contribute such quantitative data in order for the national picture to be formed and trends to be assessed.
With this in mind it was decided that the means of collecting a suite of simple biodiversity metrics in an efficient and reliable way would be developed. A number of design principles were identified which included the need for data to be easy for IDBs to collect, provide positive information and be of interest to a wide audience. The metrics will help to demonstrate that IDBs engage positively with activities known to be supportive of wildlife and the environment and will evidence a contribution towards national conservation policy and priorities.
The Metrics
The metrics cover activities that were identified by a panel of IDB representatives as those for which quantitative data is already gathered, or could be gathered relatively easily, on an annual basis. The metrics capture data relating to:
Ecological surveys undertaken
Annual maintenance techniques used
Artificial habitats created or installed
Natural habitats created by the IDB
Fish and Eel passage improvements
Invasive non-native species control
Partnership working
Biodiversity training
IDB-assisted habitat creation projects
The metrics spreadsheet and guidance can both be downloaded from www.ada.org.uk/environment.
The survey is completely voluntary and those IDBs who choose to respond are not expected to be able to contribute towards every metric. However there should be at least one metric that every IDB should be able to complete and submit.
The Benefits
There are many benefits to IDBs for getting involved with collecting and submitting quantitative biodiversity data which include:
Efficiently evidencing their many legislated biodiversity enhancement and conservation duties, including those being strengthened through the Environment Bill.
Providing data to determine whether their Biodiversity Action Plan objectives have been met.
Demonstrating environmental competence and success which may attract increased funding opportunities for future projects.
Strengthening their reputation as valuable custodians of a range of biodiversity.
Going Forward
As this is a first iteration of the survey, it is expected that the data may not be as comprehensive as it may be for following years but it will help IDBs to develop more robust data collection processes for future surveys.
This survey has been long in the making and a great deal of consultation has taken place to bring it together. Our thanks go to all who have contributed towards this project.
ADA is excited to see the opportunities that can be generated from publishing a strong and positive dataset that highlights the significant contribution IDBs make to supporting and enhancing our biodiversity.
ENDS
---
Notes to Editors
ADA
ADA is the membership organisation for those involved in drainage, water level and flood risk management. Its members include Internal Drainage Boards (IDBs), the Environment Agency, Regional Flood Defence Committees, Local Authorities, Natural Resources Wales, the Northern Ireland Rivers Agency, Consultants, Contractors and Suppliers.
ADA is involved in a wide range of work for and on behalf of its members helping to exchange ideas towards solving common problems and finding new, better ways of working. ADA responds to consultations from the Government, either on behalf of members or assisting with individual member responses. It represents all interests nationally and locally in relation to drainage, water level and flood risk management, for example, in relation to legislation and public inquiries. ADA acts together with other organisations to pursue the Association's objectives, including linking to Europe through ADA's membership of EUWMA, the European Union of Water Management Associations.
ADA obtains and shares information on matters of importance and interest to members, and provides advice on technical and administrative problems. ADA is supported by a volunteer network of branches which bring together members for meetings at a regional level. ADA organises exhibitions and meetings for the benefit of members, maintains a website at www.ada.org.uk and publishes the quarterly ADA Gazette.
ADA is a limited company with offices based at Stoneleigh Park in Warwickshire. ADA welcomes enquiries from the press and can be contacted during normal weekday office hours on 02476 992889 or by e-mail at admin@ada.org.uk.
For enquiries regarding these biodiversity metrics please contact:
Sofi Lloyd FdSc BSc MBPR
Technical Officer
Association of Drainage Authorities
Rural Innovation Centre, Avenue H, Stoneleigh Park, Warwickshire CV8 2LG
Office: 02476 992889
Email: sofi.lloyd@ada.org.uk
Website: www.ada.org.uk
For press enquiries please contact:
Ryan Dixon
Publications & Communications Officer
Association of Drainage Authorities
Rural Innovation Centre, Avenue H, Stoneleigh Park, Warwickshire, CV8 2LG
Office Tel: 02476 992 889
Email: ryan.dixon@ada.org.uk
---