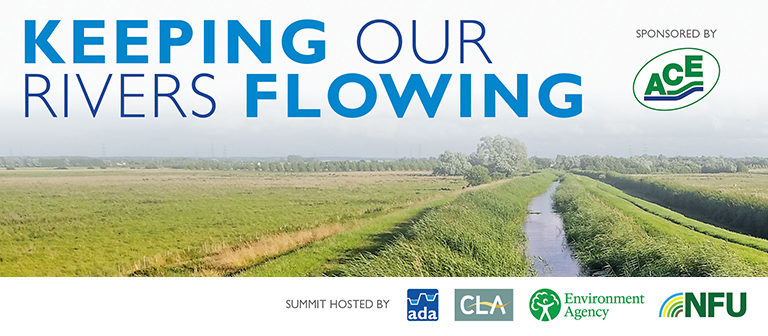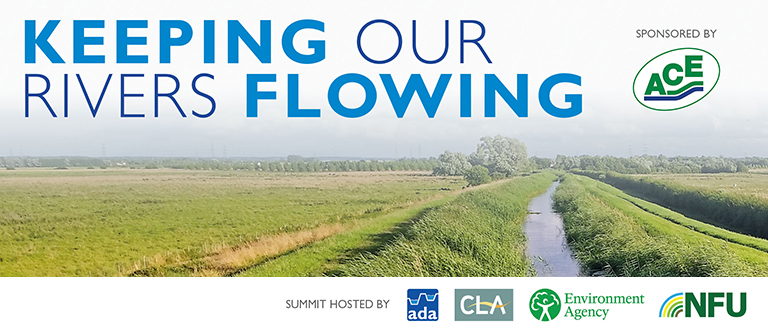 We are pleased to announce the speakers who will be participating in this year's Keeping Our Rivers Flowing Summit taking place on Thursday 12 May 2022 at NAEC, Stoneleigh Park, Warwickshire.
The Summit is being convened by four leading water and land management organisations, ADA, CLA, Environment Agency (EA), and National Farmers' Union (NFU) and seeks to highlight the importance of river management across whole catchments throughout England.
Integrating river and landscape is the theme of this year's summit. With environmental land management sitting at the heart of future agricultural reform in England, the Summit will look at how flood storage and natural flood management can combine with the maintenance of our rivers to reduce the risk of flooding.
Therefore, we are very pleased that Sam Burford from Defra's Landscape Recovery Team will be presenting about the importance of the connection between our landscapes, the environment and water management supported by Richard Barnes from the Local Nature Recovery Team.
From the Environment Agency the Summit will be joined by Caroline Douglass and Ian Hodge. Caroline is the Executive Director for Flood and Coastal Risk Management for the Environment Agency (EA). She joined the Agency in 2013 and has a varied background in both policy and operational roles. Before joining EA, Caroline worked with the State Government in Victoria, Australia. This involved a range of senior land, catchment and natural resource management positions. Ian is the Environment Agency's (EA) Chief Engineer and Director of Asset Management and Engineering. He is a Chartered Civil Engineer and Fellow of the Institution of Civil Engineers.
Richard Bramley, who chairs the National Farmers' Union's Environment Forum, will reflect on his own experiences of flooding on his farm not far from Selby in North Yorkshire and the role agriculture can play through natural flood management measures and flood storage in some areas, where there is recognition for the public goods delivered.
Ian Warsap, Chief Executive of Black Sluice Internal Drainage Board near Boston, Lincolnshire will describe the IDB's experiences with environmentally friendly and cost effective lowland river maintenance by using cutting and suction silt removal to settlement lagoons and within their upper catchment through natural flood management attenuation measures.
Joanna Knight will be speaking on behalf of the CLA, supported by Alice Green. Joanna works with Dyson Farming Ltd as their Estate Surveyor with specific interests in managing carbon and enhancing natural capital. Alice Green will be supporting Jo as the CLA's Policy Advisor on Climate and Water.
The afternoon event will also include opportunities for networking and discussion.
Highlighting the event, Innes Thomson, ADA's Chief Executive commented that:
"At our first Summit in 2021, we identified the real issues and the need for river management and maintenance to be seen as a fundamental part of our social, economic and environmental wellbeing. This event takes a progressive, positive look at how river management and maintenance is key to the interface with landscape and nature and the long term sustainability of both alongside local economic and social needs of good water management. I am delighted that all the key partners are coming together to discuss what progress and action we can collectively make."
Tickets for the Keeping Our Rivers Flowing Summit 2022 are on sale now. This face to face event is open to both members and non-members, with places available at a delegate rate of £25. Book online via Eventbrite.
ENDS
---
Notes to Editors
ADA
ADA is the membership organisation for those involved in drainage, water level and flood risk management. Its members include Internal Drainage Boards (IDBs), the Environment Agency, Regional Flood Defence Committees, Local Authorities, Natural Resources Wales, the Northern Ireland Rivers Agency, Consultants, Contractors and Suppliers.
ADA is involved in a wide range of work for and on behalf of its members helping to exchange ideas towards solving common problems and finding new, better ways of working. ADA responds to consultations from the Government, either on behalf of members or assisting with individual member responses. It represents all interests nationally and locally in relation to drainage, water level and flood risk management, for example, in relation to legislation and public inquiries. ADA acts together with other organisations to pursue the Association's objectives, including linking to Europe through ADA's membership of EUWMA, the European Union of Water Management Associations.
ADA obtains and shares information on matters of importance and interest to members, and provides advice on technical and administrative problems. ADA is supported by a volunteer network of branches which bring together members for meetings at a regional level. ADA organises exhibitions and meetings for the benefit of members, maintains a website at www.ada.org.uk and publishes the quarterly ADA Gazette.
ADA is a limited company with offices based at Stoneleigh Park in Warwickshire. ADA welcomes enquiries from the press and can be contacted during normal weekday office hours on 02476 992889 or by e-mail at admin@ada.org.uk.
For enquiries regarding the Keeping Our Rivers Flowing Summit 2022 please contact:
Heather Bailey
Marketing & Events Officer
Association of Drainage Authorities
Rural Innovation Centre, Avenue H, Stoneleigh Park, Warwickshire CV8 2LG
Office: 02476 992 889
Email: heather.bailey@ada.org.uk
Website: www.ada.org.uk
For press enquiries please contact:
Ryan Dixon
Publications & Communications Officer
Association of Drainage Authorities
Rural Innovation Centre, Avenue H, Stoneleigh Park, Warwickshire, CV8 2LG
Office Tel: 02476 992 889
Email: ryan.dixon@ada.org.uk
---