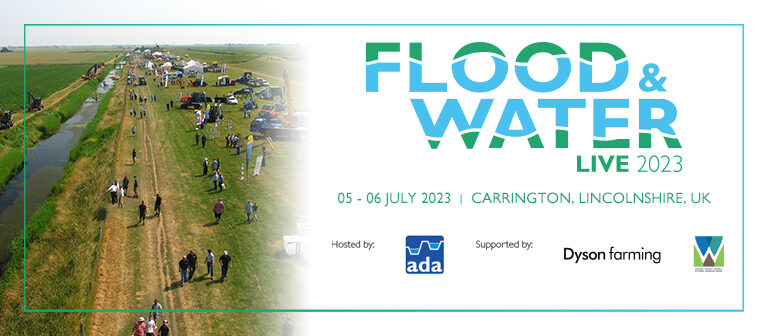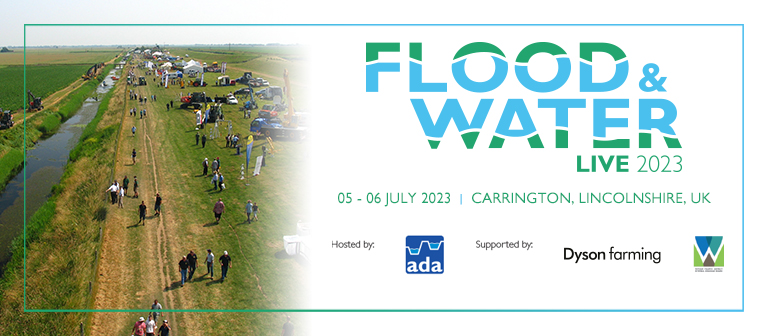 ADA is delighted to announce the return of a working demonstration event in 2023 for the wider water level and flood risk management sector. Flood & Water Live 2023 will be hosted by ADA at Dyson Farming's Carrington site near Boston, Lincolnshire over two days, 5 and 6 July 2023. The event is kindly supported by event partners, Dyson Farming Ltd and Witham 4th District Internal Drainage Board (W4DIDB).
The live event will be a unique opportunity to discover the latest equipment and technology at close quarters in a working environment. The site has an adjacent watercourse managed and maintained by W4DIDB. It offers ideal conditions for seeing plant machinery, pumps, and watercourse management equipment in action with plenty of prepared field and circulation space, easy access and parking. It is hoped that additional space could enable machines and equipment to be trialed by competent operators.
The last live demonstration that ADA organised, took place at Cross Guns in partnership with North Level District Internal Drainage Board, some ten years ago in 2013. So ADA looks forward to attracting a wide variety of exhibitors and attendees to this long-awaited industry event. It will allow everyone to connect with lots of leading experts, suppliers, authorities, land managers, and infrastructure providers.
Flood & Water Live 2023 will combine all aspects of river and waterway maintenance, highlighting the latest innovations, technology and services to sustain our water infrastructure and environment. We seek to attract exhibitors demonstrating state-of-the-art, carbon friendly equipment alongside processes and procedures delivering biodiversity net gain for our watercourses.
As part of the event, Dyson Farming Ltd will be highlighting their circular-economy farming system, offering visits to their state-of-the-art anaerobic digestion plant at Carrington, and how they are working with the environment using set-backs and sophisticated technology to identify less productive land areas that can provide environmental benefits.
Exhibitors can choose from a variety of display options from working water frontage to smaller stand areas in the marquee, as well as mid-size open-air plots. We have a couple of mounds available too, ideal for demonstrating slope working equipment.
ADA will not only be marketing the event nationally, but seeking to attract exhibitors and attendees from our continental neighbours, enabling visitors to encounter and learn more about solutions to our changing climate and help build more resilient aquatic landscapes. Our pricing for the show has been benchmarked nationally and we think that it represents excellent value for money, offering the unique opportunity to show off equipment to operators who in turn influence their management on what equipment to buy. ADA is keen to ensure that our Associate Members are supported with competitive discounts, giving advantage to those who commit to exhibition space by the autumn of 2022.
ADA is pleased to have David Sisson (david.sisson@ada.org.uk) working with us as Flood & Water Live 2023 Event Manager. With his depth of knowledge and experience of several past live demonstration events coming to the fore. All marketing and sales will be dealt with by ADA staff at Stoneleigh Park. In tandem ADA will also be hosting a networking dinner at the Petwood Hotel in Woodall Spa on the evening of 5 July. Tickets for the dinner will be made available nearer the time.
Innes Thomson, ADA's Chief Executive, commenting on the event said: "Everything has finally come together to allow us to hold another live demonstration event and I am really excited by the opportunity to work alongside Dyson Farming Ltd and Witham 4th District IDB for this event to show off the water level and flood risk management industry's innovation and technology credentials. I really look forward to not only welcoming our regular associate members as exhibitors, but also attracting new businesses to engage with our sector."
"We are reliably informed (although it may be tempting providence) that Lincolnshire's rainfall is similar to that of parts of the near Middle-East and we can certainly hope to repeat the excellent conditions experienced at Cross Guns in 2013. Recalling correctly, supplies of ice-cream were reported to be running out that day."
To find out more and register your interest for Flood & Water Live 2023 please visit www.floodandwater.co.uk and follow us on Twitter at @flood_and_water. If you would like to discuss your particular exhibition or advertising requirements, please contact any member of ADA staff.
---