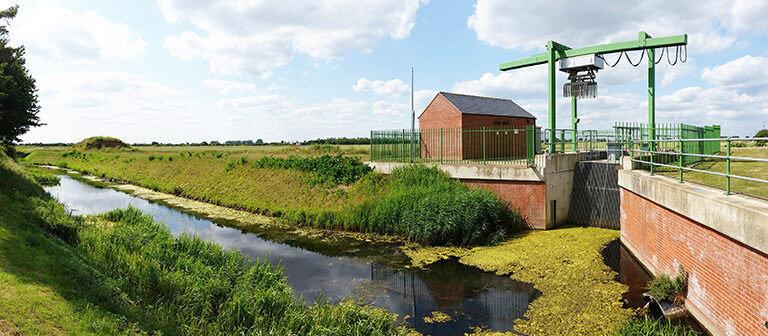 The government is scaling back its energy support scheme from April to focus on heavy energy-using sectors. That currently does not include the flood and water management sector, something that ADA believes will further compound rising costs for flood risk management authorities.
Responding to the Government's announcement of the new Energy Bills Discount Scheme, Innes Thomson, Chief Executive of ADA ( the Association of Drainage Authorities ), said: "We remain deeply concerned about the risk of heightened energy costs to those managing and maintaining our country's vital flood defences."
"While it is good that the Government will continue to help some parts of the public sector and business to keep their energy bills lower and provided some certainty for the next 12 months, it is disappointing to see that flood and water management has not made it on to the list of sectors eligible for the ETII scheme, which would have qualified public bodies such as internal drainage boards (IDBs) and the Environment Agency for additional support from April 2023."
To qualify as an Energy and Trade Intensive Industries ("ETII") sector, a business had to be above the 80th percentile for energy intensity (i.e., fall in the top 20% of sectors by energy intensity across the UK), and the 60th percentile for trade intensity (i.e., fall in the top 40% of sectors by trade intensity across the UK).
Keeping the pumps running
One of the most energy intensive activities undertaken by flood risk management authorities is pumping water. The majority of the 600 pumping stations operated by IDBs across lowland England run on electricity, as do the 360 pumping stations run by the Environment Agency.
All these pumps are essential assets for managing water levels that keep our country running, and our people and environment protected, especially when weather conditions are at their worst. Too often unbeknown to the general public, these pumps are working hard to keep their feet dry when we are at greatest risk from floods. To reduce the impacts of flooding, these pumps lift water up and out of lowland areas, such as The Fens, into rivers or out to sea, diverting floodwaters to protect people, properties, and the environment. In drought too they move water to supplement supplies elsewhere so that domestic consumers, farmers and industry continue to have the water they need, whilst also supporting the environment and protecting habitats.
The Environment Agency has calculated that that their own pumping activities alone account for approximately 54 gigawatt hours of electricity consumption annually. That is the equivalent to around 18,000 average UK households. Owing to their number and lowland functions, electricity consumption is substantially greater for IDB pumping stations.
ADA appreciates that there are cost pressures across local government, but IDBs' compact size, limited reserves, and important flood risk management role, all restrict the ability to absorb these increases alone without cutting back on essential operations, maintenance, and future investment needed to adapt to the demands of climate change. ADA will continue to closely liaise with Defra towards finding a workable solution.
---