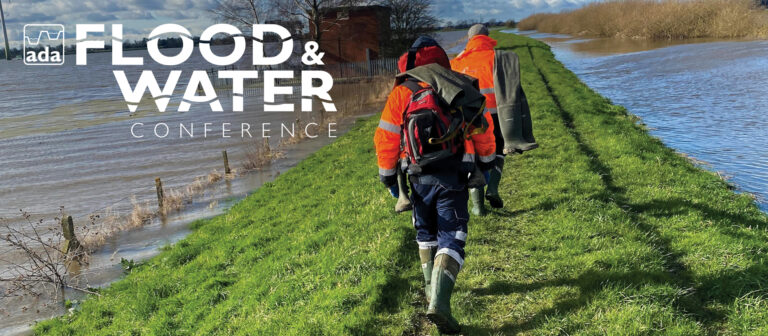 ADA is delighted to announce that booking is now open for delegates wishing to attend our annual Flood & Water Conference which will see the return to the magnificent venue of One Great George Street, Westminster, London on Tuesday 21st November 2023.
The Conference will once again bring together delegates from across the flood and water level management industry, including the Environment Agency, internal drainage boards, local authorities, regional flood and coastal committees, Natural Resources Wales, DfI Rivers and many suppliers.
New Conference Format
From valuable member feedback, the format of this year's Conference has been developed to: maximise the time available for networking, invite a greater variety of guest speakers, and provide more convenient timing for those travelling to and from London.
The Conference will open from 11.00 for networking with delegates and an Exhibition of ADA's Associate Members. A buffet lunch will be served from 12.00 before the conference presentations commence at 13.20. There will be a further opportunity for delegate and supplier connection in the afternoon exhibition session before the Conference closes at 17.00.
The ADA Flood & Water Conference 2023 agenda is currently being confirmed and we will be announcing speakers for the event throughout the summer. As in previous years, there will be a Discussion Forum during the Conference where delegates will be able to pose topical questions regarding flood and water management to the speakers / panellists via the Conference Chair.
For those booking travel arrangements, please be assured the above Conference start and finish timings are fixed.
Tickets and how to book
The ADA member ticket price is £135 + booking fee. For further details about this year's ADA Annual Flood & Water Conference, ticket types available and to reserve your place – BOOK HERE.
Any queries
Should you have any queries about the ADA Annual Flood & Water Conference, do not hesitate to get in touch with Heather Bailey on heather.bailey@ada.org.uk.
---