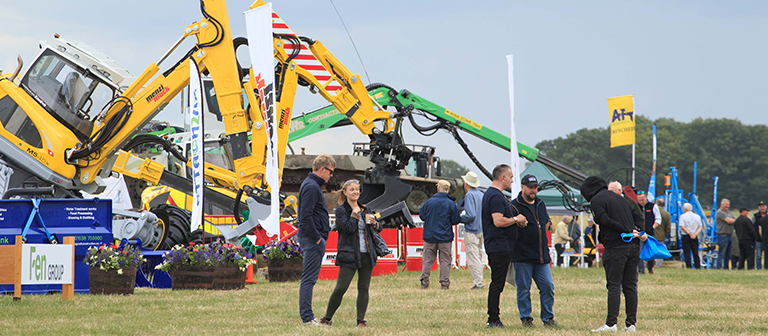 As the doors opened on Flood & Water Live 2023 (5-6 July, Carrington, Lincolnshire) attendees were greeted with a warm and sunny spectacle, with over 70 exhibitors on show.
The result of over two years planning, Flood & Water Live presented the water level and flood risk management industry with embankments and a watercourse ready for practical demonstrations of machinery in action. Around the showground, 47 static plots exhibited over 120 items of machinery and flood risk equipment, and 22 exhibitors in the exhibition marquee highlighted the breadth of the technical skills and knowledge available to the sector. ADA and Witham Fourth District IDB staff welcoming the visitors were able to uncross their fingers as the visitors arrived at the start of two perfect days.
Event guides in hand, the crowds surrounded the exhibitors' stands and the roar of the machines started across the showground. The impressive variety of equipment and plant on show ranged from flail mowers, pumps, weed boats, and plastic piling to long reach arms, cranes and an amphibious excavator.
In the demonstration areas visitors could see remotely operated slope mowers from Bomford Turner, Iseki, McConnel, and Votex showing off their capabilities on the long grass and vegetation of one of Dyson Farming's raised reservoir embankments. Along the Sixty Foot Drain exhibitors from demonstrated a range of excavators and mowing machinery. Spearhead demonstrated their brand new ILF ALPHA self propelled vehicle and Mastenbroek brought to the UK for the first time the first all-electric weedboat from Conver. Miles Water Engineering treated visitors to a demonstration of the versatility of their operators installing temporary piling into the watercourse embankment toe and Shelton Drainage showed off their trenching and field drainage pipe laying machinery.
Spider excavators wowed the crowd with their maneuverability and breakdancing skills on the showground whilst a 14 tonne, 2 metre diameter enclosed Archimedes screw pump stood imposingly on the Aquatic Control Engineering (ACE) imposingly. Thise impressive piece of fish-friendly engineering was on route to being installed at Witham Fourth District IDB's new Wrangle Pumping Station following the event. Another highlight for many visitors was getting to see the restored Buffalo LVT that had been recovered from Crowland, Lincolnshire after being lost in an effort to repair a breach to an embankment during the 1947 floods. Our thanks to the Trust and North Level District IDB in being able to bring this piece of British Second World War and Fens floods heritage to the show.
Seventy-one exhibitors and demonstrators were showing off their latest equipment, machinery and services, and the variety of products being exhibited exceeded expectations. We were delighted to have had a wide range of visitors from the Environment Agency, Internal Drainage Boards (IDBs), Defra, Natural England, Natural Resources Wales, many local councils, and Regional Flood & Coastal Committees (RFCCs), contractors and suppliers, and a number of farmers and agricultural businesses from across the country.
Over 100 visitors across the two days were treated to a guided tour of Dyson Farming's Carrington farm giving them a behind-the-scenes look at their operations, from the impressive Anaerobic Digestor to their 15-acre state-of-the-art glasshouse strawberry production. Those on the tour discovered how Dyson Farming generates power using crops grown on their farms and how this is utilised for their strawberry crop and across their wider farming business.
At 11.00, on day one ADA's special guest – His Royal Highness the Duke of Gloucester – flew in to inspect the exhibitor stands and working demonstrations. After introductions, ADA's Chair Robert Caudwell and President Henry Cator led HRH around the show meeting with our hosts at Witham Fourth District IDB and a number of exhibitors, before being taken on a tour of Dyson Farming's strawberry glasshouse at Carrington. After the event HRH wrote to ADA to express his gratitude and compliments on a successful event.
The exceptional weather conditions added an extra layer of excitement to the event, and the ice cream bike outside Catering Court tent was doing a roaring trade! Inside visitors and exhibitors alike were treated to an excellent array of quality hot food from Coningsby based Imp & Maker and their catering partner AQUAVITA Catering.
With over 1,000 people attending across the two days, Flood & Water Live 2023 received wide praise from participants and attendees alike, with an abundance of positive feedback flooding in through conversations, phone calls, emails, and various social media platforms. The whole team involved from ADA, Witham Fourth District IDB, and Dyson Farming received numerous comments of appreciation and the collective sentiment expressed a genuine and heart-warming satisfaction surrounding the event, we are very grateful and enjoyed being able to hold such a positive event for the sector.
View the full event gallery
---