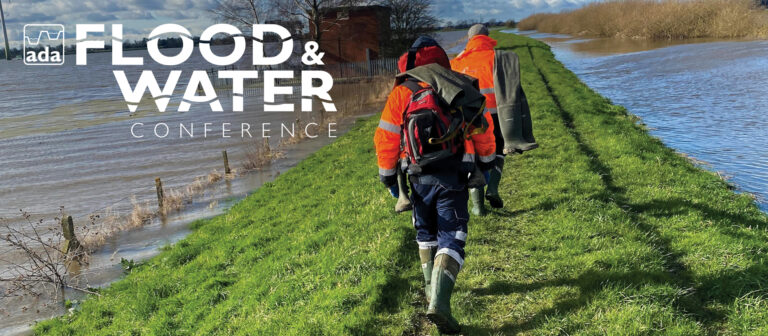 ADA's Annual Flood & Water Conference will this year be held on Tuesday 21 November, when we will return to the prestigious setting of One Great George Street in Westminster, London.
The ADA Flood & Water Conference 2023 will bring together leading flood and water level management practitioners from across the UK to hear from a line-up of prominent political, policy, and technical speakers from across the United Kingdom, and discuss key policy topics of the moment.
New Format
The format for this year's Conference has been developed in response to feedback from members to: maximise the time and space available for networking and exhibiting ADA's Associate Members, invite a greater variety of guest speakers, and provide more convenient timing for those travelling to and from London.
The Conference will open from 11.00 for networking with delegates and an Exhibition of ADA's Associate Members in the Great Hall. ADA's Associate Members are each invited to display a pull up banner in the Great Hall and have one representative attend the networking reception free of charge.
A more informal buffet-style lunch will be served from 12.00 before the conference presentations commence at 13.20 in the adjacent Thomas Telford Theatre. Alongside the six speakers lined up, a doubling of the usual number of speakers at previous ADA Conferences, there will also be an open forum discussion with the speakers at the end of their presentations. The Conference will close at 17.00.
Speaker Lineup
More guest speakers does not mean less quality and this year we have an excellent line-up covering a wide range of subjects. All of our eminent speakers, have a high relevance to the wider flood and water management family and their activities here in the UK.
Baroness Brown of Cambridge, Chair of the Climate Change Committee's Adaptation Committee and a cross-bench Chair of the House of Lords Select Committee on Science & Technology,
Alan Lovell, Chair of the Environment Agency,
Lisa Pinney MBE, Chief Executive of the Coal Authority,
Ian Titherington, Senior Adviser on Sustainable Drainage for the Welsh Government, and
Adriano Battilani, leading expert in irrigation and water management in Italy, Secretary General of Irrigants d'Europe, and a technical expert for ANBI.
We hope to attract a senior political speaker to fill our sixth slot, who we will announce the name of nearer to the event. As we start to approach the next general election, it is vital that our sector engages with politicians across the political spectrum to ensure that the important interests of flood and water managers are taken into account when drawing up manifestos.
Book your place
To book your tickets to attend the ADA Flood & Water Conference please visit our Eventbrite page.
Discounted tickets are available to ADA Members, including staff and board members of IDBs, Environment Agency, Natural Resources Wales, Dept. for Infrastructure NI – Rivers Division, Regional Flood & Coastal Committees, Coal Authority, Anglian Water, Network Rail, as well as staff and councillors of local authorities who are members of ADA.
A limited number of free tickets are available by application to students enrolled and studying on a relevant flood or water management degree programme. Free tickets are available to Associate Members of ADA only wishing to exhibit in the Great Hall.
---