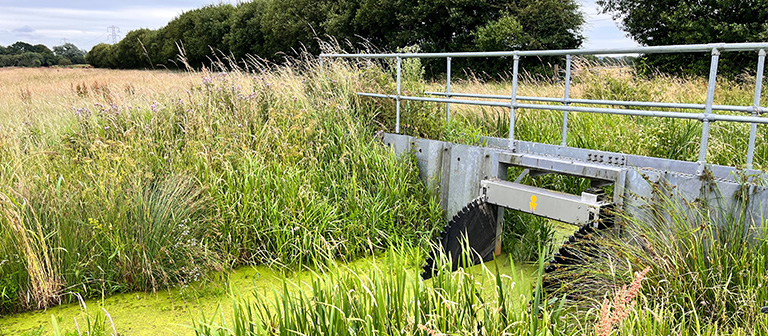 Today, Tuesday 19 September 2023, Defra opened an exciting new grant scheme to provide better control of lowland water levels for the preservation and rewetting of peat soils.
The £5.45 million Lowland Agricultural Peat Small Infrastructure Pilot (LAPSIP) grant scheme will deliver projects by internal drainage boards (IDBs) to install new small-scale water level management infrastructure and monitoring technology within drainage districts containing lowland peat. Projects will enable more control of water levels for the preservation and rewetting of lowland peat whilst seeking to not increase the risk of flooding to communities, business, and infrastructure. The focus will be on projects that are near shovel-ready and fully implementable by March 2025.
This is the first time that government funding has been exclusively targeted at IDBs retaining more water safely within their systems. The resultant projects should help to reduce greenhouse gas emissions from lowland areas such as the Fens, Broads, and Somerset Levels & Moors. ADA has helped to develop the grant scheme proposal and is closely supporting Defra with the management and delivery of the LAPSIP fund through to project completion in 2025.
The LAPSIP grant scheme is part of new government investment and actions that were announced alongside the publication by Defra of the Caudwell Report from the Lowland Agricultural Peat Task Force. The Task Force explored how lowland agricultural peat soils can be better managed to protect productive agriculture and contribute to the government's target to achieve net zero by 2050.
Small infrastructure projects funded by the LAPSIP grant scheme must contribute to an IDB's management of water levels that enable the better preservation of peat soils. This could be achieved directly, or by facilitating changes in future land management practices by local farmers that reduce the loss of, and emissions from, peat soils. In essence this means safely accommodating higher water levels within a part of a drainage district with peat soils without adversely increasing flood risk. There is no requirement under this pilot that rewetting must occur, however action to raise the water table would be welcome.
ADA engaged with all relevant IDBs over the summer and received 40 expressions of interest during July and early August. These demonstrated a high level of interest in the funding, as well as the scope of the projects that may come forward. This has helped ADA and Defra to better shape the application process to IDBs.
Applicants are encouraged to consider a full range of infrastructure that can support the management of water for the preservation of peat. Examples include tilting weirs, flow diversion and control devices, automated or remote mechanised control, water level monitoring and telemetry system, and water-storage facilities.
IDBs can apply to receive LAPSIP grant funding of up to £250,000 per project, for all or part of the cost. IDBs may use their own funds or other third-party funding sources in addition to any LAPSIP grant received. One important requirement of the LAPSIP grants will be that each project must be completed by 31 January 2025, which is the grant cut-off date.
Find out more, get involved, apply
More information
Further information about the LAPSIP grant scheme can be found on its Find a Government Grant webpage.
Webinar
ADA and Defra will be presenting information about the LAPSIP grant scheme and taking questions during a webinar on Monday 02 October 2023, 14.30 and 16.30.
Sign up for the webinar
Dates
| | |
| --- | --- |
| Opening date | 19 September 2023, 00.01 |
| Closing date | 31 October 2023, 23.00 (updated following Storm Babet) |
| Funding start date | 01 January 2024 |
Make an application
To apply for the grant please use the Defra e-Sourcing portal – Defra Atamis.
Applicants must provide certain evidence about their organisation on Atamis alongside the necessary eligibility, technical and financial information about their LAPSIP project proposal.
Apply for the grant on Defra Atamis
Other lowland peat funding
The Environment Agency launched a related grant scheme in August which closes for application on 27 October 2023. The Lowland Agricultural Peat Water Discovery Pilot (LAPWDP) will fund the creation of new costed plans for peatland water management for lowland peat areas in England that will seek to preserve peat soil carbon and support continued agriculture. These plans will identify how the water table within lowland agricultural peat soils can be raised to enable either a mosaic approach, or wetter farming alone, to improving the condition of lowland peat.
---