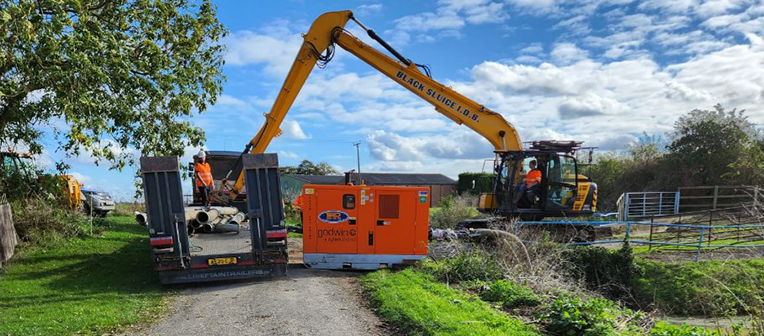 As Storm Babet crossed England on 19 to 21 October, heavy rainfall impacted upon a number of areas and over 2,000 properties were flooded. Throughout the following week, overtopping, seepage, and breaches of main river embankments have continued to bring significant additional water into some lowland catchments, particularly in Lincolnshire, Nottinghamshire, and South Yorkshire.
Throughout the adverse weather and flooding from Storm Babet, internal drainage boards (IDBs) in England's lowlands have been fighting to evacuate floodwaters from their drainage districts. Working around the clock, IDBs have pumped millions of litres of water to keep communities and property safe, and are endeavouring to lower water levels within their lowland systems back to winter levels in readiness for further rainfall. Flood risk managers from the Environment Agency, Natural Resources Wales, and local authorities are also assisting communities, and preparing their assets and systems.
Unfortunately, one week on from Storm Babet, hundreds of acres of farmland remain underwater in some of our lowlands, such as either side of the River Witham downstream of Lincoln. ADA remains concerned about the condition and capacity of a number of lowland embanked main rivers in England. Several lowland embanked main rivers overtopped during this storm event, others are seeping large volumes of water during high flows, and in a few cases embankments have slumped or breeched. We are relieved that over 80 residents asked to evacuate owing to a slumped embankment on the River Witham at Fiskerton have been able to return to their homes as engineers continue to closely monitor its condition. However, a handful of IDB pumping stations have been inundated and damaged with temporary pumps brought in to assist from neighbouring IDBs, Environmental Agency, and fire & rescue authorities.
According to the Met Office, Storm Ciarán is set to bring heavy rain to much of the UK on Wednesday 1 and Thursday 2 November, falling on already saturated catchments. The heaviest rain is expected in southern and western areas (20-25mm), with up to 40-60mm over higher ground.
Please heed the advice and warnings provided by Risk Management Authorities and emergency services. You can find links to key flood warning information via these Flood & Adverse Weather Tools.
Please report any flooding using the Environment Agency's 24-hour incident hotline: 0800 80 70 60, and where relevant report to your local authority or internal drainage board (IDB), ideally with a location reference (e.g. What3Words) and/or maps.
IDBs typically operate a 24/7 Duty Officer and their contact details can be found on each IDB's website. Where an IDB knows about a problem, they can look at potential options to improve the situation during an event, in recovery, and over the long term. To find your local IDB's contact details please visit: www.ada.org.uk/member_type/idbs.
If you see damage to a flood embankment or a problem with another flood defence asset please report this to the relevant authority, or if you are unsure to the Environment Agency in the first instance.
Never interfere with flood defence structures, embankments, or other assets, unless you have the express permission from the relevant Risk Management Authority. You may be prosecuted, and you may increase flood risk to others, endanger yourself or others, put at risk other critical flood defence assets such as pumping stations, and cause damage to your own and others property.
---