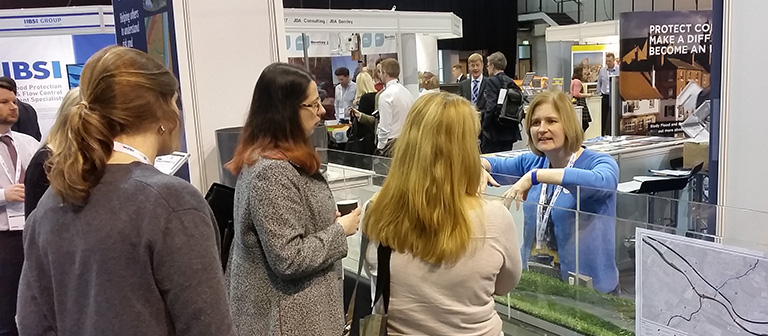 Rachael Hill from the Environment Agency explaining the influence of downstream restrictions to flooding in Mytholmroyd, Yorkshire using a flume model at Flood & Coast.
Our industry/profession/vocation – call it what you will – enjoyed a wonderfully integrated and organised meeting of people and presentations last week at the Flood & Coast Conference in Telford. Back too came memories of the good-old three day Defra Conference and various risqué stories of those times past. In my 30-plus year career, there have been massive advances and changes in how we see things, how we understand the natural processes and systems and how we work with them. The very reassuring bit is that in my career, many of the same people are still there and providing wise counsel to the next generations about what they have learnt. My three days at Flood & Coast were greatly rewarding, not least through the renewal of old contacts and friendships, but also through meeting new, fresh, energetic and innovative thinkers keen to make their mark. What was also very uplifting was the positive mention of ADA in several of the keynote presentations so we must be getting something right! Whether we like it or not, we are "Brexiting" so let us make our drainage, water level and flood risk management industry a world leader and something to be proud of through the export of knowledge and expertise.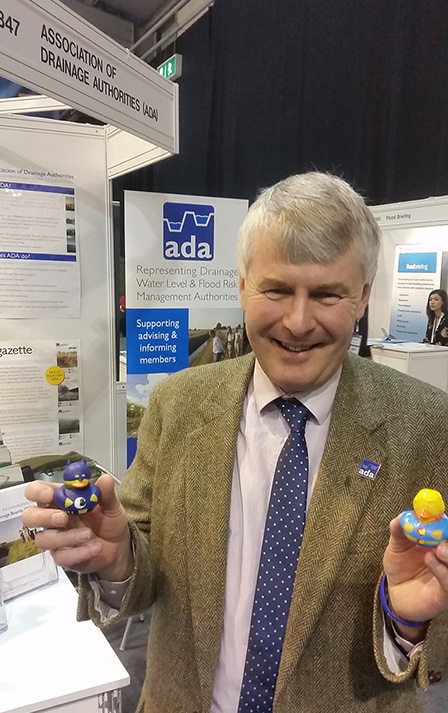 Next event up is ADA's very own FLOODEX UK 2017 on 17th and 18th May and, with a complimentary but different flavour to Flood & Coast, we focus very much on the operational and maintenance side of the business. Please do support the event and the trade exhibitors by coming along on one of the two days. Membership feedback has also encouraged us to organise some specially focussed health & safety training for our IDB members to help them define roles and responsibilities for key personnel and to allow them to understand what they must do to help deliver work safely. There is, of course, the not-to-be-missed FLOODEX Dinner taking place on the evening of the 17th May where our membership networks can work at their best and problems get resolved with a bit of social joviality. Booking forms can be found under the Events Section of the ADA website.
Keeping on the "family" theme, our ADA Branches are becoming more active with Spring arriving and we see a good mix of meetings happening this month, right across the country. If you have not yet attended one, why not go along and take part. Again, the ADA website tells you when and where they are happening and they are open to all ADA members. The intention is that ADA Branches should be bringing the various different partner members together to discuss common issues and to help each other make progress and deliver the benefits that the tax and ratepayers want to see. ADA Branches are very much complimentary to the Regional Flood & Coastal Committees and can help them make quicker, informed decisions about local priorities. ADA are committed to providing support to all our Branches and we look forward to getting challenged by each and every one of them to provide the support which they need. I am looking forward to a visit later this month to the SW Branch in Bridgwater and Ian and Robert are splitting forces to attend ADA's Cymru, Lincolnshire and Southern Branch meetings.
Talking of RFCCs, there are vacant seats on a number of the Committees being advertised and I would highly recommend ADA members applying to take these seats. If you need any help in preparing your application, get in touch with the office and we can assist.
On another upbeat note, Brunel University is preparing the first cohort of young people to pass into the new Flood Foundation training scheme and ADA is very much in support. The EA has agreed to part-sponsor a small number of trainees who will "see practice" with IDBs and my thanks to several IDBs who have expressed a keen interest in taking someone on. This new initiative is very encouraging and I look forward to us attracting some new blood into the drainage, water level and flood risk management business. We are also keen to engage with young farmers and Nuffield Scholars and conversations have taken place to get things going.
Easter is just around the corner, the grass has definitely going green now and the lambs are coming along fine. Do have a great Easter break with your loved ones and friends. I always find it a most uplifting time of the year… and don't over-do the Easter eggs!
---