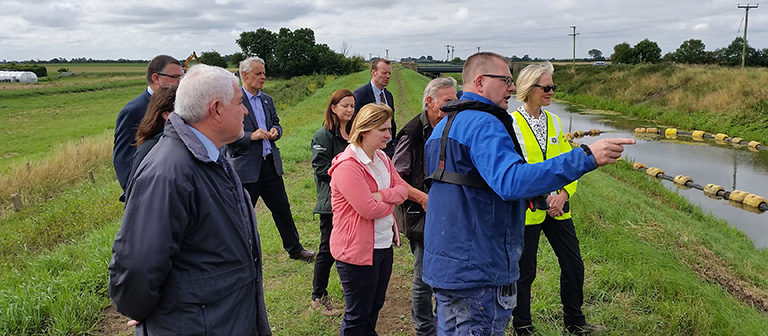 ADA, IDB, Lincolnshire County Council and Environment Agency staff inspecting work on the South Forty Foot Drain
July is often the month where it becomes harder to get things moving forward with holiday season beckoning. Not so this year and much good work has been going on across the industry, notably linked to ensuring that our key ADA issues are shared as widely as possible and liaisons forged to help create a sense of multi-benefit rather than the more traditional "silo" approach to water management. It has also been another important month for shows and inspections and I cannot fail to mention one of my favourites, the Great Yorkshire Show in Harrogate – but then I would as a Harrogate resident and I am very proud of what it represents across the wider agri-rural sectors. My sincere thanks, as always, go to the ADA Northern Branch team for their effort and dedication to the ADA stand there, and the many people who passed by to find out all about what our industry does.
There was a very sad moment in July too when I learnt of the horribly sudden and accidental death of Mark Welsh (Lincolnshire County Council), someone who I greatly respected and who will very much be missed. My thanks to Robert for representing ADA at Mark's funeral on 4th August and our collective thoughts will be very much with his family. Mark was a true leader on the subject of sustainable drainage and his knowledge and tenacity for pushing forward in an area where successive governments have been less than interested was enormously welcome. The least we can all do in memory of Mark is to double our efforts to ensure that a long-term solution for sustainable drainage is not only seriously considered, but more importantly put into consistent country-wide practice. Maybe it is time for England to follow the good examples of Wales & Scotland!
July has also brought us various confirmations for our future events, notably an agreement to link with the UK Irrigation Association for our next FLOODEX UK event and we are working on other associated themes too. To make such a focused trade show a big success for exhibitors and attendees alike and working in closer collaboration with the Environment Agency and their Flood & Coast event which focuses much more on policy and strategy, we have chosen to take a little more time to prepare the next one. Please put a marker in your diary for the next FLOODEX UK event on 27th & 28th February 2019 at Peterborough.
For our ADA Conference on 16th November this year, I am delighted to confirm that Defra's Floods Minister, Dr Thérèse Coffey MP is expecting to deliver the opening address and we have two excellent keynote speakers in Sir James Bevan and Cllr Derek Antrobus ( lately, RFCC chair in the North West ). We are also going to be allowing more time for members questions and discussion so please start having a think about what sort of things you would like to talk about. To keep some control of the process, we will be inviting written questions which will get priority on the day.
The demaining pilots are moving forward well and my thanks to Ian Moodie for heading up the Technical  Working Group which has just had its first meeting. Some IDB members might be feeling under a sense of increased scrutiny at the moment and I will simply say that this is to be expected as part of the process of the demaining pilots. As asked for by Ministers, Defra will be looking in much more detail at all aspects of IDB operations and this is the opportunity for IDBs to demonstrate their capability and capacity to help deliver work in partnership with others. Some changes will be inevitable and the genuine aim is that such changes bring about business efficiencies, governance rigour and environmental enhancement in the work that we all do. Having seen a variety of Boards and their operations recently, I am greatly enthused by the passion and enthusiasm for the subject of water management and we simply need to promote that more extensively, locally and nationally.
And that brings me nicely onto the subject of Public Relations. I think that we have gained quite a bit of ground over the past 12 months, thanks to all members promoting themselves more locally and ADA working with various outlets and associated organisations nationally. We will continue to develop those contacts going forward and try to do more in the way of supporting members locally with our messaging. ADA has seen the enormous benefit from the work done to update our website and my challenge to readers is simply to ask is your website up to the standard that you want it and expect it to be? If not, now is a good time to consider some work on it as it is one of the most important communication tools you have to the wider (and younger) public. Please talk to ADA if you need any advice on this and we will try and steer you in the right direction.
Finally, I very much hope that you can all find some time over our great British summer to relax, recharge the batteries and enjoy that increasingly precious time with family and friends.
---