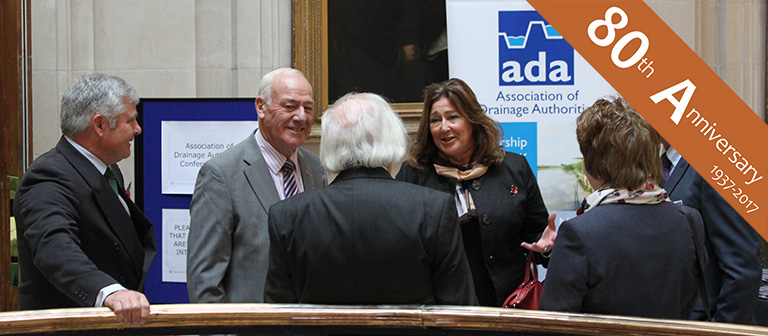 ADA is delighted to announce that booking is now open for delegates wishing to attend our Annual Conference and AGM, which will take place on Thursday 16th November 2017 at One Great George Street, Westminster, London.
The Conference will once again bring together delegates from across the flood and water level management industry, including the Environment Agency, internal drainage boards, local authorities, regional flood and coastal committees, Natural Resources Wales, DfI Rivers and many suppliers.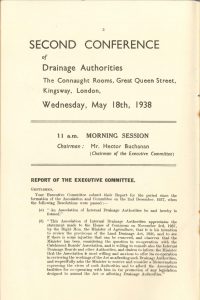 This year's Conference is particularly special as it marks the start of our 80th Anniversary celebrations since the Association of Drainage Authorities was formed on 2nd December 1937. With this, comes some exciting additional surprises, accompanied by an influential line-up of speakers. The guest speakers presenting at the Conference are:
Thérèse Coffey MP, Parliamentary Under Secretary of State for the Environment & Rural Life Opportunities, Defra
Sir James Bevan, Chief Executive, Environment Agency
Councillor Derek Antrobus, Lead Member for Planning & Sustainable Development, Salford City Council
New Conference Format
From your valuable feedback, we have refreshed the format for our 80th Anniversary Conference to provide you, our Members, with more opportunity to raise questions and debate on subjects which are important to you. This means a longer Q&A session brought to the point immediately following the keynote speakers. We will no longer operate with a specific set of panel members but will have the freedom to call upon those experts with the appropriate knowledge within the audience to answer your particular questions about topical issues affecting the flood and water level management in the UK. To make this new format work we are asking for all questions to be submitted in advance so we can understand who best to seek to answer from those attending Conference. The deadline for receipt of your questions has been set for Monday 23rd October and where there are more questions than we can fit into the open-floor session, we will record all questions asked in the written proceedings. Please submit all questions to heather.bailey@ada.org.uk
Henry Cator OBE
After over 10 years of incredibly valuable service to our industry, Henry Cator will be standing down as Chairman at the Conference on 16th November. Whilst the business formalities of his handover to Robert Caudwell will take place during the AGM at the end of the morning session, (subject to the Members' approval), our celebration of Henry's service to ADA will very much be the focus of the ADA luncheon, starting at 13.00.
How to book
We are pleased to confirm that for the third year running delegate places are once again £112+VAT. To book your place, and for further details about this year's Annual Conference & AGM, please visit: www.ada.org.uk/events/annual-conference
---