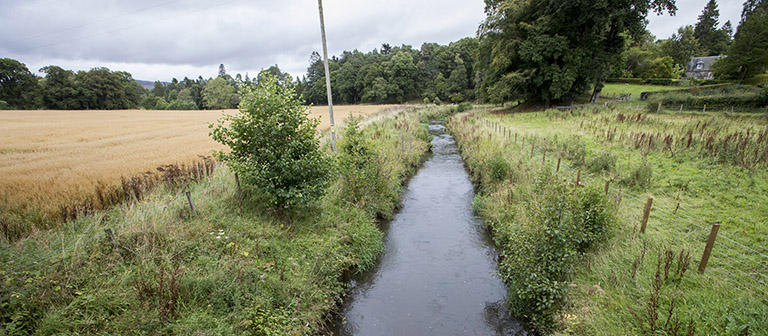 Plans progress to update governing legislation of 13th century drainage channel
A valued communal resource, helping protect over 2,000 acres of some of Scotland's most fertile agricultural land and adjacent residential developments from flooding, is set to benefit from legislative reforms that will enable those responsible for its maintenance and management to more effectively service the community.
The Pow of Inchaffray is a drainage channel in Perthshire, tracing its origins back as far as the 13th century. Today, it is maintained by the Pow of Inchaffray Drainage Commission.
The Commission's role remains to work to prevent flooding of low-lying land in Strathearn, but its work has also made residential development possible. It is therefore important to local heritors (occupiers of land) that the Pow continues to be maintained to prevent flooding in this area.
ADA, the membership organisation for drainage, water level and flood risk management authorities, has been supporting the ongoing work of the Pow of Inchaffray Drainage Commission as it progresses with updating its governing legislation, which is currently before the Scottish Parliament as a Private Bill.
These reforms will enable the Commission to continue to manage and maintain vital drainage channels that flow into the River Earn, near Crieff in Perthshire.
The original legislation was some of the oldest known in the whole of the UK and the job of bringing it up-to-date recognises the important connection between those that own and look after the fertile land in the Pow of Inchaffray, and those with houses adjacent to the Pow who benefit from its good management and maintenance by the Drainage Commission.
This model of community management has clearly stood the test of time and ADA is proud to represent a growing trend for local support from this kind of organisation. There are examples of similar working arrangements, but having sound legislation in place ensures a good, democratic and fair management of an area's water level management. People are increasingly willing to engage with a low-cost service that provides a direct benefit to them which they might not otherwise be able to receive from central or local government.
Innes Thomson, ADA's Chief Executive said "It's great to see the Pow of Inchaffray Commission coming into the public limelight for the good work that it does in protecting people, businesses and the environment from flooding. With Councils increasingly under pressure on the services they can provide, this could be an excellent opportunity for other low-lying areas of Scotland to consider similar operating models to manage and maintain drainage systems"
---