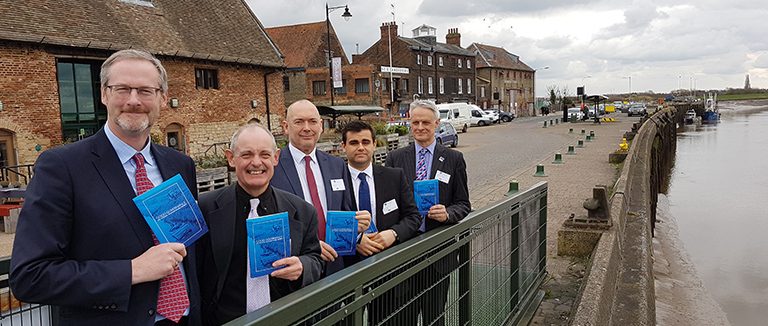 The workshop presenters beside the River Great Ouse in King's Lynn at the first of ADA's Good Governance Workshops. Left to right: Jonathan Goolden (Wilkin Chapman LLP), Iain Smith (the Guide's principle author), John Cooke (Towergate Insurance), Gino Ballestracci (Wilkin Chapman LLP), Robert Caudwell (ADA).
ADA has held a series of five workshops across England during March and April 2019, focusing on expand Internal Drainage Board Members' knowledge of the rules, practices, and processes involved in governing these important local public water management authorities.
The workshops in King's Lynn, Doncaster, Gloucestershire, Peterborough and CIWEM, London have been well attended, with over 200 attendees across the five dates. These events compliment the new Good Governance Guide for Internal Drainage Board Members that was published by ADA at the ADA Conference 2018. The Guide was the output from a year of detailed work by ADA with funding support from Defra.
The workshops have been put together by the guide's authors, with support from Towergate Insurance and Wilkin Chapman LLP.
The modules covered:
The role of Board Members and Meetings,
Delivery of functions,
Managing risks and hazards,
Information governance, and
Funding, Financial Management and Audit.
We intend to make these workshop modules available as a series of training videos during May 2019.
Download: Good Governance Workshop Slides 2019
More: Governance & Accountability
As a Board Member, you are both part of the democratic framework of the country representing the interests of your community, and the long and eventful history of living and working with water in lowland England. This guide will help you understand more about your role and the difference you can make.
The principle of collective responsibility for water management endures at the heart of today's IDBs. It remains more efficient to build and maintain our water environment together, and to delegate the design and execution of works to professional well governed organisations. It is more important than ever to engage with your community and other public authorities in a positive and proactive way. IDBs need active, interested and committed people to serve and get involved in their work.
Robert Caudwell, Chair, ADA
Forward, Good Governance Guide for IDBs 2018
---