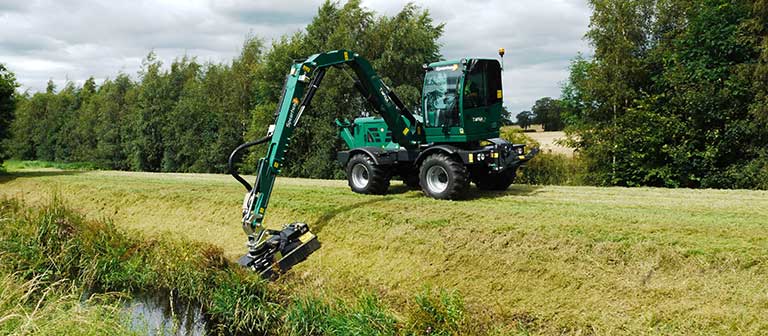 Despite the restrictions applied during the COVID-19 lockdown, England's internal drainage boards (IDBs) continue to provide key services in managing and maintaining our rivers, ditches, and waterways. Working methods are being used to ensure that risks to IDB staff and the public are minimised with social distancing measures actively employed.
This means that IDB offices and depots may be closed to the public, but their essential maintenance work continues, controlled and administered by key staff. IDBs play a crucial role in carrying out drainage, flood risk and water level maintenance work both to enable water to flow freely for irrigation as well as ensuring proper and timely drainage when there is flooding. All their work also serves to support and protect our environment.
David Thomas, Chief Executive to the Middle level Commissioners explained the situation in their part of the Cambridgeshire Fens: "Most Middle Level Commissioners Boards have been able to continue with routine maintenance works which should ensure that we are not caught out later on in the year. Whilst some non-essential maintenance and improvement works have been delayed we are currently putting plans in place to deliver these in a safe manner as the current restrictions are eased. We are also mastering video conferencing which has allowed Board meetings to take place and key decision making to continue where it is essential that it does so."
With local IDB offices shut, any ratepayer needing to contact their local IDB should do so, at the moment, by e-mail or phone and the enquiry will be dealt with by staff working remotely. Certain non-essential activities or planned improvement works may be delayed whilst general maintenance and the operation of pumps, sluices and gates is given priority.
To help with that continued management, Pete Dowling, Clerk to the River Stour Internal Drainage Board in Kent says, "To assist us in maintaining normal water levels and the best possible function of our river systems during this time, it would be very helpful if landowners/managers could keep their local IDBs informed, in advance, of their water-use needs and plans to abstract."  
Innes Thomson, ADA's Chief Executive adds, "It is especially important that IDBs carry out maintenance works now and over the summer to prepare for next winter, and they are doing just that. They may be working in different ways but are very much continuing to provide their services for the benefit of their local ratepayers."
Further information about your local IDB can be found at www.ada.org.uk.
 ENDS
 Notes to Editors
 ADA
ADA is the membership organisation for those involved in drainage, water level and flood risk management. Its members include Internal Drainage Boards (IDBs), the Environment Agency, Regional Flood Defence Committees, Local Authorities, Natural Resources Wales, the Northern Ireland Rivers Agency, Consultants, Contractors and Suppliers.
ADA is involved in a wide range of work for and on behalf of its members helping to exchange ideas towards solving common problems and finding new, better ways of working. ADA responds to consultations from the Government, either on behalf of members or assisting with individual member responses. It represents all interests nationally and locally in relation to drainage, water level and flood risk management, for example, in relation to legislation and public inquiries. ADA acts together with other organisations to pursue the Association's objectives, including linking to Europe through ADA's membership of EUWMA, the European Union of Water Management Associations.
ADA obtains and shares information on matters of importance and interest to members, and provides advice on technical and administrative problems. ADA is supported by a volunteer network of branches which bring together members for meetings at a regional level. ADA organises exhibitions and meetings for the benefit of members, maintains a website at www.ada.org.uk and publishes the quarterly ADA Gazette.
ADA is a limited company with offices based at Stoneleigh Park in Warwickshire. ADA welcomes enquiries from the press and can be contacted during normal weekday office hours on 02476 992889 or by e-mail at admin@ada.org.uk.
For press enquiries please contact:
Eur Ing J Innes Thomson BSc CEng FICE
Chief Executive
Association of Drainage Authorities
Rural Innovation Centre, Avenue H, Stoneleigh Park, Warwickshire CV8 2LG
Office: 02476 992889
Website: www.ada.org.uk
Ian Moodie MSci
Technical Manager
Association of Drainage Authorities
Rural Innovation Centre, Avenue H, Stoneleigh Park, Warwickshire, CV8 2LG
Office Tel: 02476 992 889
Email: ian.moodie@ada.org.uk
Ryan Dixon
Publications & Communications Officer
Association of Drainage Authorities
Rural Innovation Centre, Avenue H, Stoneleigh Park, Warwickshire, CV8 2LG
Office Tel: 02476 992 889
Email: ryan.dixon@ada.org.uk
For any other press enquiries please contact Stuart Booker, Kendalls PR on 07841 655379 or stuart.booker@kendallscom.co.uk. Issued on behalf of ADA by Kendalls PR
---