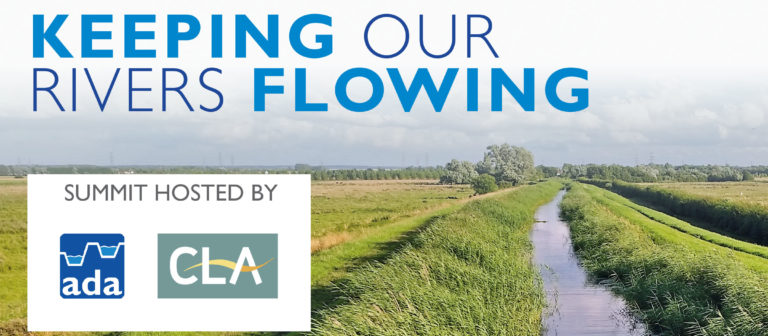 PRESS STATEMENT
With our changing climate, and expanding built environment, we are seeing greater pressures being placed on our rivers and catchments. A growing demand for water and rising frequency of flooding in England, both threaten the environment, people and local economies. Carefully managing our rivers is a crucial part of the adaptations we need to meet these challenges and sustain the environment. Yet, under investment in the maintenance of many of our lowland rivers is reducing their capacity to convey the volumes of water needed.
Following an increasing frequency of flood events from our rivers in recent years, ADA and the CLA hosted an online "Keeping our Rivers Flowing" Summit on 24 June. Over 150 delegates discussed the reality of our river systems, the consequences of underinvestment in watercourse maintenance, and solutions for better managing our catchments from source to sea.
Senior Defra and Environment Agency officials were able to hear first-hand from local land managers and internal drainage boards about the increasing frustrations that our lowland rivers are becoming less able to deal with the flows of water to evacuate floods from food-producing land and peoples' homes and businesses. Concerns were also voiced about the environmental consequences on the water quality of vegetation-choked rivers and their reduced capacity of being able to transfer water naturally from one area to another in times of drought.
The Summit also looked beyond the problems. Several speakers highlighted how a different strategic approach and working in local partnerships can help resolve tensions and enable better river management.
Commenting on the current situation, ADA's Robert Caudwell, co-chairing the event said: "People are ready and willing to work together locally to find ways to help our rivers flow, but they feel restrained by a lack of government support on river maintenance. We need to spend more on maintenance to save money spent on flood response and recovery".
Landowners are ready to play their part too. With the CLA's recent publication of a key policy document "A Vision for Water to 2030", their members reinforced their desire to play a part in improving the wider water environment through local solutions at comparatively low cost.
Judicaelle Hammond, the CLA's Director of Policy and Advice and co-chair of the event added: "Landowners play an important role protecting downstream communities from flooding, often saving millions of pounds' worth of damage, but this comes at the expense of their own land. It is critical that the Environment Agency works with the rural community to protect the local river environment and where they can't, ensures the right body is in place to do so. In the meantime, CLA members are ready to start thinking outside the box, looking at how improving soil health can reduce flood risk, where locally-driven partnerships can work and investigating natural flood risk management projects."
The Summit heard about the great potential for the further use of innovative, environmentally friendly river maintenance techniques, including those utilised in the Steeping Catchment Action Plan. There was a strong desire to bring water management to the fore in future consideration of the Environment Land Management Scheme (ELMS), and a recognition that soils management must play a crucial part in reducing silt and nutrient loads in our rivers.
As part of the next Spending Review, due in the autumn, Defra will be submitting proposals to HM Treasury on future investment needed for flood and coastal erosion risk management. We need to ensure our rivers and their associated flood and water management assets are effectively managed to keep them flowing, and ensure that local partnerships equitably collaborate in the work. ADA and the CLA will be calling on them to look more closely at investment in routine maintenance within the Environment Agency's revenue budget.

Watch again
You can watch a recording of the whole Summit via the CLA's YouTube channel
Presentation Slides
Andrew McLachlan – Yorkshire & Humber Drainage Board
Daniel Johns – Anglian Water
Caroline Douglass – Environment Agency
Iain Sturdy – Somerset Drainage Boards Consortium
Andrew McGill – Lindsey Marsh Drainage Board
ENDS
---
Notes to Editors
ADA
ADA is the membership organisation for those involved in drainage, water level and flood risk management. Its members include Internal Drainage Boards (IDBs), the Environment Agency, Regional Flood Defence Committees, Local Authorities, Natural Resources Wales, the Northern Ireland Rivers Agency, Consultants, Contractors and Suppliers.
ADA is involved in a wide range of work for and on behalf of its members helping to exchange ideas towards solving common problems and finding new, better ways of working. ADA responds to consultations from the Government, either on behalf of members or assisting with individual member responses. It represents all interests nationally and locally in relation to drainage, water level and flood risk management, for example, in relation to legislation and public inquiries. ADA acts together with other organisations to pursue the Association's objectives, including linking to Europe through ADA's membership of EUWMA, the European Union of Water Management Associations.
ADA obtains and shares information on matters of importance and interest to members, and provides advice on technical and administrative problems. ADA is supported by a volunteer network of branches which bring together members for meetings at a regional level. ADA organises exhibitions and meetings for the benefit of members, maintains a website at www.ada.org.uk and publishes the quarterly ADA Gazette.
ADA is a limited company with offices based at Stoneleigh Park in Warwickshire. ADA welcomes enquiries from the press and can be contacted during normal weekday office hours on 02476 992889 or by e-mail at admin@ada.org.uk.
For press enquiries please contact:
Eur Ing J Innes Thomson BSc CEng FICE
Chief Executive
Association of Drainage Authorities
Rural Innovation Centre, Avenue H, Stoneleigh Park, Warwickshire CV8 2LG
Office: 02476 992889
Website: www.ada.org.uk
Ryan Dixon
Publications & Communications Officer
Association of Drainage Authorities
Rural Innovation Centre, Avenue H, Stoneleigh Park, Warwickshire, CV8 2LG
Office Tel: 02476 992 889
Email: ryan.dixon@ada.org.uk
---